FASHION ALERT: Tips on how to dazzle In your little black dress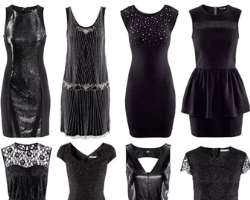 FASHION ALERT= with the party season approaching here are tips on how to dazzle In your little black dress. i love my job #winks#
Dazzle in your Little black dress this season Whether it's a sophisticated A-line dress for a work meeting a little black dress is a classic and timeless staple to have in your wardrobe, below are how to style yourself glam with your LBD.
Be trendy and style yourself fabulous
Trends should be used as an inspiration to add to or enhance your wardrobe. "Trends -- like this season's polka-dots, for example -- look great on some women, but not so great on others," create your own personal style and incorporate the trends. You can use polka dot scarf or shoe on your black dress to get that wow look.
Dress to suits your shape.
If you have a curvy figure, you can either embrace your curves by wearing a formfitting (not tight) dress that highlights your assets or look for an A-line dress that skims your hips and camouflages the lower part of your body. If you're petite, dresses that fall above the knee will help you look longer. Top-heavy women should opt for dresses with V-necks or high round necks, while women with a straight or rectangle shape should look to a fuller skirt to help give their bottom half a more feminine shape.
Accessorize With statement necklace is so in fashion this season
"Accessories are a great way to spiff up and modernize a little black dress, But stick to one statement piece or you'll risk overdoing it. A strong statement piece, such as an amazing pair of classic pearl studs or a bold collar necklace, is always better than multiple strands of baubles.
Add a Touch colour
A touch of colour can instantly brighten up any dull outfit and give you that fab look, whether it's in the form of heels, a belt or a clutch. Another fun way to inject colour to your little black dress? Add a bright printed scarf for a bit of personality.
Glam Bella
(CEO & FOUNDER- VANTEX MAGAZINE UK)
www.vantexmagazine.com