MASSACRE: FULANI HERDSMEN KILL 500 IN PLATEAU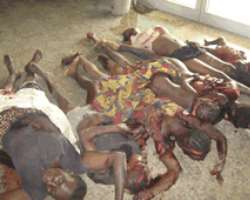 Victims of the latest disturbance in Jos on Sunday
No fewer than 500 persons have been brutally murdered and many wounded in three villages in Jos South and Barakin Ladi local government areas of Plateau State by persons suspected to be Fulani herdsmen.
According to an eye-witness account, the men who arrived at Dogo Nahawa and Shen in Jos South local government area at about 3am massacred the villagers including women and children in their sleep in what was believed was a reprisal attack on villagers who were not part of the Jos crisis of January 17 this year. A similar attack took place in Fan, Barakin Ladi local government area.
The Dogo Nahawa and Shen villages are close to Du village the country home of Governor Jonah Jang.
The state Commissioner of Information and Communication, Gregory Yenlong, who briefed journalists shortly after visiting the affected areas, confirmed the casualty figure and described the massacre as ethnic cleansing aimed at the Beroms and called for the arrest of the National Public Relations Officer of the Myetti Allah Cattle Farmers Association, Alhaji Saleh Bayare.
He said a mass burial would be held for the victims on Sunday evening even as government has tightened security in and around the affected villages.
Some of the victims brought to Plateau Specialist Hospital were carrying machete cuts on the head and some of the dead ones including children had their heads severed from their bodies.
The Chief Medical Director of Plateau Specialist Hospital, Dr. Pam Datong, said so far he had received six corpses and nine persons wounded in the attack.
Commenting on the incident, the Gbong Gwom Jos, Jacob Gyang Buba , described the massacre as a heinous crime against humanity, pointing out that while the state government and prominent citizens were trying to ensure that normalcy was back to the state, some people were bent on ensuring that Plateau knew no peace.
The traditional ruler who said he had been receiving threat calls from persons saying his kingdom would be attacked vowed that the perpetrators would not go unpunished.
Governor Jang who had also visited the areas affected urged the people of the state to maintain peace, assuring that government was doing its best to arrest the situation.