Acams Lauds Heritage Bank's Commitment To Anti-Money Laundering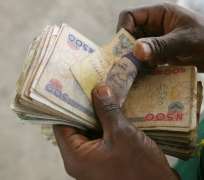 The Association of Certified Anti-Money Laundering Specialists (ACAMS) has commended Heritage Bank for showing a practical commitment to anti-money laundering by employing one of the very few professionally-certified anti-money laundering experts of Nigerian origin the nation's Banking Sector currently boasts of.

This commendation was contained in a special congratulatory letter by ACAMS's Editorial/Communications Manager, Karla Monterrosa-Yancey, following the certification of Prince Okenwa Akamadu of Heritage Bank as a full member of the association.
Currently, the number of Nigerians who are certified members of this globally respected body is put at two; with Akamadu being one of them.
Monterrosa-Yancey described the certification of Prince Akamadu as a merit that not only positively reflects his status as a globally distinguished professional but also confers on his employer an objective confirmation of its proficiency and capability in the dynamic anti-money laundering field.
"Your certification asserts that your employer takes anti-money laundering seriously and employs top specialists like yourself", the note concluded.
Reacting to Prince Akamadu's certification by ACAMS and the attendant commendation of Heritage Bank by the Association, the Bank's CEO, Ifie Sekibo, described the two developments as a testament to the bank's unique business template that is predicated on promoting best in class human resources, technology and processes.
"At Heritage Bank, we are out to make a qualitative difference in service delivery.
Our operations are geared towards ensuring total protection and preservation of our customers' wealth entrusted to us.
The excellent quality of the team, spanning our workforce at both Management and non-Management levels, is one of the key drivers of this commitment", he submitted.