Ekwunife: The Anaconda Finally Unleashes Her Venom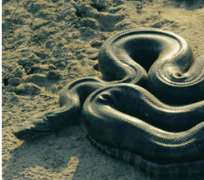 Hon (Mrs) Uche Ekwunife hit head line few days back. Reason: while her colleagues in the top echelon of APGA were brain storming on how to seal the victory for APGA in Anambra guber this Saturday she planned and executed personal agenda that kept many wondering where she is headed.

Ekwunife has immense social skill and the ability to seduce anyone with her tongue and personal charm. So it was easy for her for the Obianos to accept her as a close family friend. When the Obianos had their wedding anniversary recently Uche Ekwunife was on hand, precisely beside the couple to supervise the cutting of the anniversary cake. So it was rude shock to many when Ekwunife came out with the idea of taking Obiano's mandate from the back door. She asked a Federal High Court sitting in Awka to consider as criminal Chief Obiano's alleged double registration as a voter and to disqualify him as APGA's candidate on the basis of that act and equally declare her the authentic APGA candidate.
However, she later filed an application for the withdrawal of the Suit and the matter was subsequently struck out. But the irreparable harm has been done. For one, when someone who is said to be close to the Obianos came out and make declaration under oath, it will mislead people because on the basis of that closeness many will beleive the declaration to be true and for another it gives room for presumptions of unimaginable scale especially when such declaration cast the victim in bad light as a criminal. Uche Ekwunife did not consider these before taking out her frivolous Suit.
Again she did not do her homework well otherwise she would have discovered that there is no documentary evidence in INEC's record which suggest that Obiano registered twice as a voter and INEC has maintained that Obiano did not violate any electoral law. That it was on this basis that a similar case filed against Obiano in Anambra High Court in the same subject matter was struck out due to lack of merit.
Let us examine this woman Hon Uche Ekwunife closely. I personally beleive in miracle but truthfully every miracle follows a natural sequence that matures to what we call miracle otherwise it will be magic. It is because we lack understanding of such natural and inevitable sequence that we refer to such unprecedented happening as miracle. To the wise, it is no miracle but normal match of events. Uche Ekwunife expected miracle as she dreamt of being the next Governor of Anambra of all states. The manner she fashioned her dream shows that she has poor intelligence and that left many to wonder whether what she got between her ears is brain or saw dust because the miracle she expected has no basis and no structure.
I will go further to ruthlessly deal with this bad example her action has portrayed. The intention is not to run her down because if God has blessed her, there is nothing anyone can do about it. This is intended to keep our women on alert so that they do not over sleep and fall into temptation like this.
Ekwunife is an ordinary woman, just like any other woman next door. Her looks is not great, she was lucky to find favour on the sight of big boys of Anambra politics. This action suggest that she has nothing upstairs as many hitherto thought. In APGA she was the lady after the heart of the national chairman. Gov Obi has no time for such character. But unfirtunately the height in which APGA leadership kept her made her to over estimate her worth and she personally hurt Victor Umeh by this act. Talking about charm,naturally every woman has charm.
At least 70% of them manifest that. It is a natural gift. The saying that every woman is beautiful when naked is equally true. But it all depends on how individual woman uses this natural gift. A golden crown and laurel wreath to women that use theirs in the right manner. So when I said that Hon Ekwunife can seduce anyone with her tongue and personal charm, it does not connotes a special gift peculiar to her alone but to all womanhood.
Another thing I want to mention here as it concerns Ekwunife is the misuse if not abuse of the Igbo word IYOM. In the past few days I have read some people address Hon Ekwunife as Iyom Uche Ekwunife. Iyom means queenly mother, it does not necessary mean wife or mother of a King or one whose reproductive organ meant for physical procreation has been put to use but one who is an embodiment of genuine womanhood. An Iyom must be submissive to a man, passive and intuitive. One whose delicate intuitive perception or sensing will always be there to guide and shield her family. I mean by tending, nurturing to healthy growth of that which the will of God has entrusted on her.
There are many like that, but one who has technically suspended her marriage for whatever reason can not be an Iyom. One who is hollow, an empty gangling cymbal and a South African vuvuzela can not be an Iyom. I once glanced at Uche Ekwunife and behold her bobbed hair, her shallow thinking and her thinly stocking legs, I concluded that these atributes are incompatible with genuine womanhood and to address her as Iyom is gross misuse of that sacred word.
The lesson of these happenings is that the natural pressure being experienced everywhere is forcing everyone to show his or her true colour despite how hard one tries to hide or pretend about it. Wind has blown and all have seen that Catholic Priest wear trousers, that it is not all cassock. So we should see Ekwunife with pity, she is just showing her true colour, due to the natural pressure she can't help it. It is like someone with diarhea,she will poo in her pant if she does not get to the convenience fast enough. So it is wrong to blame Prince Arthur Eze or the opposition for her action.
Another lesson is that if Gov Obi and Willie Obiano are trees, the opposition must have uprooted them, thank God for this is not the case. Good thing is that Anambra State has witnessed unprecedented development and one is begining to think that the names Anambra State, Peter Obi and Willie Obiano are God given and God sustained. Everyone should be on the alert because as for the serpent it must raise its head but we should be ready at all times to bruise its head.
As the supplementary election is being conducted in some areas in Anambra State today, I ordered an all white Chieftancy legalia I will wear at Obiano's inuaguration come March 17 next year. It will be a great day the Lord has made.
Val Iwuchukwu.
Disclaimer:

"The views/contents expressed in this article are the sole responsibility of

Val Iwuchukwu

and do not necessarily reflect those of The Nigerian Voice. The Nigerian Voice will not be responsible or liable for any inaccurate or incorrect statements contained in this article."