What Parents Should Know About Child Rearing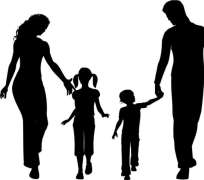 Caring parents want for their children, the best bet. In their quests to balancing the demands of their children, they work tirelessly. As children look up to parent for all necessary succors, they (children) in the same vein demand some privacy.This privacy at times brings about problems. It revolves round unsolvable maniac tribulations. Many indelible mistakes children make are outcomes of superfluous privacy and excessive indulgence.
Children understanding of live as something worth socializing upon and their arduous search for friendship do culminate their education expedition. Friends they do not really need find ways into their life thereby introducing them to immoralities. Many are being captured by shackles created by friends.
The realities behind youth exuberance and peer pressure reside in the society we found ourselves. Our society predisposes children to all forms of immoralities which naturally instill antihuman, life imperiling, what-I-like-I-can-do attitudes into children.
There are many ideas parents need to inculcate into child upbringing if truly they aim gold for their children. Virtually all parents aim high for their children, and believe, if our parents have the ability to make us leaders of this world, they will, without shilly-shally.
The usual conviction that parents and teachers are the builders of potential leaders should not be mere talk; it should be affirmed with standard testimonies. Some irregularities are crawling into child upbringing which may cause a great deal of problems for education in future.
It is now norm secondary school students take mobile phone to school. It has crept into their daily life, they hardly survive without it. The games inside these phones are extraordinary. Students now use mobile phones as classroom pride.
I discussed this issue with a secondary school teacher who affirmed parents are contributing a very high percentage to the failure of students. He emphasized that teachers are blamed when students failed, but parents do not see their own contribution to these failures as a great one.
Teachers do complain to school management to stop student from bringing mobile phone to school, but in some cases, student do sneak it into their classroom or they are permitted by parent to do so. Classrooms are now video game houses and cybercafés where student retire to browsing during school lessons. Where do you expect to find brilliant students when teachers now meet students on social network to discuss political issues and not mathematics or other subjects?
These days, lots of distractions are now noticeable in the classrooms. Parent should stop giving their children phone to school, forget communication, you are giving them advantage to play all day. That aphorism, 'All work and no play makes jack a dull boy' is not valid for too much play. Besides, mobile phone games are addictions which students should avoid.
Instead of parent to sit their kids down and teach them gray areas not cleared in the classroom lessons, they (parents) prefer watching videos and television programs together.
All those video games that people claim reduce nervousness, increase intelligent quotients, are not for minors. They kill brains. There are times underage wakes at night to play with phone games even during examinations. All these attitudes, I know, are prominent with every child given mobile phones. Children are known to be distracted by frivolities.
Today, youths are affected by bad companies, undue privacy. Many parents think keeping their children indoor, taking them to exclusive schools shield them from bad company. Many internet companies which your children keep are killers; they corrupt the mind than you ever think.
Do not be surprised your children knew more about sex than you do. Facebook, twitter, 2go, Eskimi users are tutoring them on daily basis. Online groups are being created to teach them mind-killing ideas. They joined all these companies with the help of mobile phones you gave them. They are more into bad gangs without leaving home.
Even some parents help their kids to open Facebook account. Minors now control blackberry and iphones. Ask their parents why they gave them these phones. They'll reply you with feeble excuses. Check their mobile phones; it contains pornographies and mind appalling music and videos. These are result of undue privacy and excessive comforts parents gave their children. What lesson does a child gets from hip hop music and videos other than obscenities?
A youth corper exposed how some secondary school students kept to watching pornography while she was teaching them. These kinds of children were allowed to go to school with mobile phones by their parent. It's not going to be a surprise if they failed examinations or dropped out of school.
After spending huge amount on children, parent s complain they are dullards while they are the ones behind their failures. Some children watch African magic till midnight, how will this kind of children perform excellently in school? Are they not going to doze during class lessons?
Those minors you gave phones are online customers of pornographic websites. Why won't they, when some parents are accustomed to buying pornographic disc into their homes. Do not forget children learn best from visible ideas.
Digital television companies specified the age limits for every program shown; have you, as parent, sent your kids out of the living room when movies above their age limit are shown?
It is disheartening many parents are the problem bedeviling their children. They watch films which are detrimental to the existence of their children. Those robbery films and pornography-turned home videos you do watch together are instilled into their brains. What morals do you, as parent, teach your children with all these immoral qualities?
I don't know how these kinds of films get into the markets; did they not pass through censorship? Any way, Nigeria is a country where absurdities look like modernization.
The essence of all these is to see changes in parents who engage in these attitudes. Train your children in a way you'll not regret. Charity, they say, begins at home. Start proper upbringing of your children to have a viable community where future leaders are good ambassador of their family.
Yusuff Olayode Supoto writes from Ibadan.
He is available on [email protected]
Disclaimer:

"The views/contents expressed in this article are the sole responsibility of

Yusuff Olayode

and do not necessarily reflect those of The Nigerian Voice. The Nigerian Voice will not be responsible or liable for any inaccurate or incorrect statements contained in this article."