Kidnappers snatch father of ex-Super Eagles defender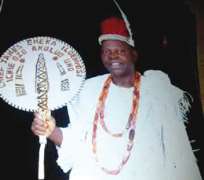 The 83-year-old father of a former Super Eagles player, Chikelue Iloenyosi, have been abducted by kidnappers in Njikoka Local Government, Anambra State.
It was learnt that the victim, James Iloenyosi, was on his way back from the church on Monday when he was abducted by the assailants.
It was gathered that the kidnappers blocked Chikelue father's car and then put him into another car before speeding off.
Ex-Super Eages player, Chikelue has confirmed the development.
He said, 'I received a telephone call from the village that my father had been kidnapped. Later we were able to recover his vehicle, but my father's telephone was switched off for the rest of the day. It was the following day that the kidnappers called with their demand of N50m.'
He said the family was still meeting to plan the next cause of action, while negotiation was ongoing with the kidnappers.
The former Nigerian defender said the incident was more painful as his father's twin brother had only recently died.
'We have been begging these kidnappers but they have been threatening to kill my father if we did not pay. That money is just too much,' he said. – Punch.