MAKE – UP MISCREANTS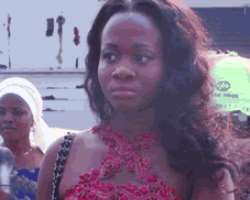 Make-up miscreants
By 'Justice' Bolatito Adebayo
Prosecuting counsel:
Oyin Bada-Onime
Photo arrangement : Ekiye Daniel
Sunday, March 07, 2010

Killer slit
Our investigation shows that your dress got all the men at a public gathering drooling. One evidence brought to us showed that when you sat down, there was an explosion and everyone thought Boyloaf had resumed his bombings again. Girl, you don't need this high slit to make a fashion statement. You have been pronounced guilty and sentenced to 1 year at the Old Peoples Home, Mushin where you would help to dust and clean . And that exhibit you call a dress would henceforth be used as a duster.
Jenifa's make-up
My jury is so sure that you learnt this your make-up from Jenifa's school of make-up artistry . Otherwise what informed this colour separation? And the black dot too? It only means that you have been watching too many Indian films. We hereby call on all make-up stakeholders to set up a panel that would look into your situation but before then, pay N200, 000 fine.


.


Chemical reaction
Ha! Mummy you see what prolonged mixing of Tura soap, Mercury cream and Ghana soap together can cause. This is just a chemical reaction that you invested so much of your resources on and you are giving us a premiere of another scary movie. When you were warned against using those 'nuclear weapons' on your skin you refused to budge. Well, for your punishment, you have been banned from using those killer agents and you should see a renowned dermatologist quickly.


You got it wrong
Is this make-up or you are wearing a mask? How on earth would you mask your face like this? The thick black penciled eyebrows, the black lip liner, the black dot and eyelid extension are contrary to section 234 of the make-up constitution. You have been found wanting and sentenced to hard labour at Dulux paint factory for six-months. We are sure after your probation, you will be more careful with colours..


So totally off
The blushers code says that 'nothing brightens the face like getting the right blush but find the colour that suits your face and apply on the apple of your cheeks'. You just flouted this code. We are so sure Calabar masquerades are better-off when it comes to colour combinations. You have been found guilty and fined N500, 000.


Attempted under wear crime
How come you're are making your underwear so visible in public? This is highly unacceptable and its sending wrong signals. We also think that combining a low cleavage with high slit is revealing too much flesh. For attempted underwear crime you have been fined N600, 000…