Abuja Court Of Appeal Sacks Obinna Emenaka, John Olibie And Co From Anambra State House Of Assembly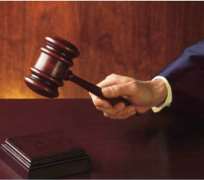 The Appeal Court sitting in Abuja has sacked Pharm Obinna Emenaka, John Olibie, Rebecca Udorji, Paulinus Onyeka and Vivian Okadigbo from Anambra State House of Assembly.
The presiding Judge sacked these members for non participation in the PDP Primaries held by the National Working Committee of the PDP before the April general election.
In the suit number CA/A/593/2011 brought by Hon Umerie Uchenna (Lake),Hon Ikenna Amechi,Hon Boniface Okonkwo etc challenging the legality of the recognition of the appellants as members representing different constituencies in the State House of Assembly.
In her judgement, the court gave an order of mandamus quashing and rendering invalid the certificate of returned issued to Hon John Olibie and co by the INEC. The court therfore ordered INEC to issue certificate of return to EGBE THEO CHIDI, SOLOMON EKWEABA, CELESTINE OFOEGBUNAM,UMERIE UCHENNA and BONIFACE OKONKWO for their various constituencies. INEC was also forthwith ordered to recognise and deal with Hon Umerie and co as the new members representing Dunukofia,Ekwusigo,Oyi,Anambra East and Awka North Constituencies respectively
With the above judgement at hand, Hon Uchenna Umerie, Hon Boniface Okonkwo and co will be immediately sworn-in at the state house of assembly next week by the speaker
Mr Igwebuike Andrew writes from Awka