MUBARAK UNDERGOES SURGERY, HANDS OVER TO DEPUTY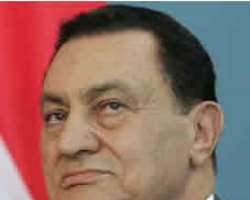 Mubarak undergoes surgery, hands over to deputy
By Olusola Balogun (with agency reports)
Sunday, March 07, 2010
President Hosni Mubarak
Egypt seems to be telling Nigeria how to handle power transmission in the event of the illness of the President. President Hosni Mubarak promptly handed over the reins of power to his deputy as he was about to go under the knife.
Mubarak, according to agency reports, on Saturday underwent surgery in Germany to remove his gall bladder, but before he left he handed over the reins of power to Prime Minister Ahmed Nazif.
Although Mubarak, one of the longest serving Presidents in Africa, took ill in Germany, he nevertheless issued a decree giving Nazif executive power until he returns to Cairo after consulting the constitution.
The Egyptian news agency, MENA, reported: 'President Hosni Mubarak will undergo a surgical operation to extract the gall bladder in Heidelberg University hospital on Saturday'.
The agency added that a medical examination on Friday confirmed 'chronic infections in the gall bladder.' The agency published the president's decree handing power to Nazif until he returns to work. It reads: 'Prime Minister Dr. Ahmed Mahmud Mohammed Nazif assumes all the prerogatives of the president of the republic according to Article 82 of the constitution until he resumes his responsibilities'.
State television also announced that Mubarak, 81, had suffered 'gall bladder pain' while in Germany for talks on Thursday with Chancellor Angela Merkel.
The TV station added that the president was accompanied on the trip by his wife Suzanne Mubarak and members of his family. Mubarak's health is usually a taboo subject in the country he has ruled since 1981, fuelling regular rumours on the subject.
In 2007 for instance, the speculation was so intense that the president was forced to make an unscheduled public appearance to put a rest to the rumours that his health is failing.