Meaningful development to elude ECOWAS countries if conflicts persist- Nigeria warns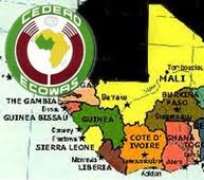 Nigeria on Monday in Abuja called for new strategies to maintain peace and security in West Africa, warning that no meaningful development would take place in a violent and conflict environment.
Nurudeen Mohammed, the Minister of State for Foreign Affairs, made the call at the opening of the 4th annual consultative meeting on the implementation of ECOWAS conventions, protocols and supplementary acts.
Represented by the Director of ECOWAS division in the foreign ministry, Ali Ocheni, the minister noted that violence had negated development in the region.
He therefore called on member states to comply with ECOWAS conventions on peace, security and stability.
He expressed the hope that meeting would lead to "a refocusing and restructuring of ECOWAS strategies for maintaining peace, security and stability in the region.''
According to the minister the five-day meeting would give the ECOWAS commission the opportunity to acquaint member states with regional policies and legislation to ensure stability in the region.
He said member states "would be made aware of their obligations under these texts which must be discharged to enable the community achieve the objectives of our founding fathers.''
In her remarks, Salamatu Suleiman, the ECOWAS Commissioner for Political Affairs, Peace and Security, said numerous intra-state conflicts had continued to pose a threat to the region in the past twenty years.
She said in the course of the meeting, the Commission would make presentations on initiatives and strategies employed over the years to manage or resolve conflict within the region.
"It is expected that member states will give due consideration to these presentations and make necessary recommendations that would further improve ECOWAS interventions in the peace and security sector,'' she said.
She reminded delegates to the conference that maintaining regional peace and stability remained the collective responsibility of states.
She therefore stressed that this could be achieved by member states "fully discharging its treaty-based obligation'' of maintain regional peace and stability.