Jonathan to Super Eagles: You can win World Cup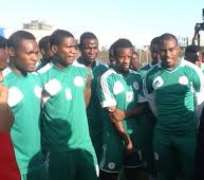 President Goodluck  Jonathan has congratulated the Super Eagles for their victory over Ethiopia.
The president charged them to dedicate themselves to the goal of being the first African nation to win world cup, say that with the pool of talents in the Super Eagles that it can be done.
Special Adviser to the President  on Media and Publicity, Dr. Reuben Abati, in a statement shortly after the Super Eagles overcame their Ethiopian counterparts 2-0 (41 in aggregate), said that the joined other 'other proud and happy Nigerians in applauding the Super Eagles dogged and determined performance against the Ethiopians over the two legs of the final qualifying round which ensured away and home victories, and also ensured that Nigeria will be at the World Cup Finals for the fifth time."
The president also praised the  team's performance in all the preceding qualifying matches and the consistent commitment and dedication of the players to building on their victory at this year's African Nations Cup by qualifying for the World Cup Finals and bringing further glory to their fatherland.
"As the team and its handlers bask in the glory of being the first African country to qualify for the 2014 World Cup in Brazil, President Jonathan urges them to rededicate themselves to excelling on the global stage and reaching for heights never previously attained by the country at the World Cup Finals.
"The President believes that with the enormous pool of footballing talent available to the country, the Super Eagles can, with more hardwork, dedication, resilience and further honing of their skills and tactics, fulfill the national dream of being the first African Nation to win the world cup" the statement said.
Jonathan  assured  NFF and the team, of the fullest possible support of the federal government and all Nigerians in their quest to win even greater glory for Nigeria at the world cup finals in Brazil.