HSBC and other foreign banks may take over Union Bank, Oceanic, Others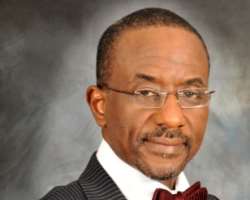 Indications have emerged that HSBC, a bank in UK, may be leading a group of foreign banks that may eventually take over the eight banks in precarious position whose top managements were recently sacked by the apex bank CBN.
It was gathered that the ongoing bank audit and the options of controlled liquidation or conversion of government stakes in the weak banks to equity as a last resort until investors are found for the eight affected commercial banks must have rekindled the interest of HSBC and others in the Nigerian commercial banks.
It would be recalled that the sum of N200 billion was injected into the three banks taken over by the CBN last Friday. CBN had earlier injected a N420 billion lifeline into the first five banks where it drove away their management teams. They are FinBank Plc, Union Bank of Nigeria Plc, Afribank Nigeria Plc, Oceanic International Bank Plc and Intercontinental Bank Plc.
Reacting to the future plan for these banks in Istanbul, Turkey, news the CBN helmsman, Mr Sanusi Lamido Sanusi said: "Our preference is to move straight from the Tier II loans we have given these banks to private investment. If you are running an institution like the CBN you've got to ask yourself - what if our plans do not materialize in terms of what we consider to be appropriate or what happens if we do not see an investor for any of these banks? "The two options that we have are that if any of the banks is not systemically important to Nigeria, we will look at the possibility of controlled liquidation that will ensure that all depositors are paid back their money until the bank is wound up. But where the bank is systemically important to Nigeria and its survival is considered critical to the financial system.There is a possibility of government converting its stake into equity till it finds a buyer. That is different from an active policy of nationalization and that may happen by default."
HSBC is headquartered in London, and is one of the largest banking and financial services organizations in the world. HSBC's international network comprises around 8,500 offices in 86 countries and territories in Europe, the Asia-Pacific region, the Americas, the Middle East and Africa. With listings on the London, Hong Kong, New York, Paris and Bermuda stock exchanges, shares in HSBC Holdings plc are held by around 220,000 shareholders in 119 countries and territories. The shares are traded on the New York Stock Exchange in the form of American Depositary Receipts.
Emmanuel Ajibulu is a representative of modernghana.com in Nigeria.
+2348023660770
[email protected]
Development / Ghana / Africa /
modernghana.com