Tincan Island Customs command says its revenue dipped to N22.3b in October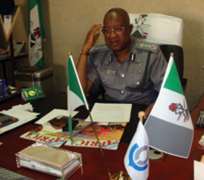 The Nigeria Customs Service (NCS) Tin-Can Island Port(TCIP) Command, says it's revenue profile dipped to  N22.3 billion in October compared with N23.3 billion recorded in September.
The Area Comptroller, Mr  Zakari Jibrin made this known to the News Agency of Nigeria (NAN) on Wednesday in Lagos.
Jibrin said that the October revenue figure was lower due to the embargo on the Negotiable Duty Credit Certificate (NDCC), exemptions and volume of goods that arrived through the port.
NDCC is a customs certificate meant for payment of duty on raw materials,
'The slight decrease in our revenue collected compared to the September figure may be ascribed to the embargo placed on the NDCC and of course, effect of demand and supply.'
He said that the embargo was placed on the NDCC when it was discovered that people are abusing the instrument.
'The NDCC was meant for payment of Customs duty on raw materials, but when some irregularities were observed on how it was being used, it attracted an embargo.'
He said that the revenue for the Federation Account was derived from import duties and five per cent value added tax.
Other levies which come under the Non-Federation Account are on rice, sugar, iron, cigarette, wheat grain, wheat flour, and revenue from the ECOWAS Trade Liberalisation Scheme (ETLS).