Dangote Extends SAP Relationship As It Drives Growth Agenda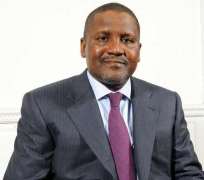 LAGOS, Nigeria — November 12, 2013 — West African-based industrial conglomerate Dangote Group has extended its relationship with SAP, market leader in enterprise application software, by signing a deal to use SAP's OpenText ECM (enterprise content management) and Invoice Management offerings on top of its existing SAP infrastructure.
Dangote Group was founded by Nigerian billionaire Aliko Dangote, and its interests include steel, cement, real estate and telecoms. The Group generated revenues of more than $2.6bn in 2011 and includes four companies that are listed on the Nigerian stock exchange. It operates in 14 African countries, and is on an aggressive expansion drive across the continent, with plans to double its cement output, thereby positioning Nigeria has the largest cement producer in the world.
Dangote's relationship with SAP dates back to 2005. As part of Dangote's drive to modernise all its systems and business processes to support expansion into new markets across the continent, and to lay the groundwork for a potential listing on the London Stock Exchange in 2017, in 2012 Dangote signed a three-year deal with SAP to use the SAP Business Suite to increase transparency and efficiency across the group. The new solutions are expected to accelerate Dangote's move from manual-based systems to one that is more integrated, automated and transparent.
"Dangote is the first company in West Africa to use SAP's OpenText ECM and Invoice Management solutions, highlighting its leadership amongst African companies who see the wisdom of leveraging IT effectively to further their business objectives, in this case with world-class records management and governance, said Prasanna Burri, MD of DANCOM. "Ours is the first company in Nigeria to have an agreement of this nature that spans across several other African countries including South Africa, Senegal and Ghana. Partnering and co-innovating with SAP is helping us drive further efficiencies in our operations and deliver best-in-class products for our customers."
The OpenText Extended ECM and Invoice Management solutions provide easy access to all customer data and documents, which significantly increases the quality of data while promoting more productivity and business continuity, all resulting in internal cost-savings and efficiencies.
SAP Africa CEO, Pfungwa Serima, said the relationship with Dangote highlights the growing demand for enterprise management software in Africa as forward-looking companies leverage IT to modernise their business systems in preparation for expansion. He added that SAP's HANA real-time analytics platform and cloud platform were also starting to gain traction across the continent as companies looked to take advantage of the boom in resources and the significant trends of urbanisation and consumerisation.