Revealed: Yar`adua confines El-rufai, Ribadu diaspora movement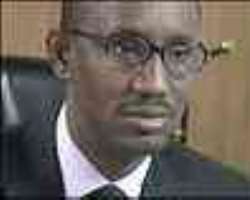 Whom the gods destroys they first make mad! Huhuonline.com can say that recent actions adopted by the Yar`Adua led Nigerian government portrays the activities of a leadership with a deranged mindset. Constitutionally, a citizen of Nigerian is allowed to form opinions, and associate freely. However, the continuous clamp down on citizens who criticize the depressing status quo in Nigeria, has brazenly taken a dangerous dimension.
Recall that this bald-faced act commenced last year with the arrest of online publishers, particularly, Jonathan Elendu of Elendu reports and Emmanuel Emeke Asiwe of huhuonline.com, who were arrested upon their arrival at the airport without charges, and detained for weeks.
Now, Yar`adua junta is at it again, unable to perfect and carry out their threat to extradite Nasir El-rufai to Nigeria, they decided to hatch a new plot, which will confine Nasir and restrict his movement within the diaspora. However, Nasir is not alone in this, his bossom friend, Mallam Nuhu Ribadu was also placed on the non renewal of passport list.
A circular, dated 09/17/09 and issued by one Joe Keshi, a permanent secretary reads:
"Headquarters attention has been drawn to the continuous and unyielding campaign of calumny being orchestrated by former FCT Minister, Mallam, Nasir El-rufai and former EFCC chairman, Mallam Nuhu Ribadu against the federal government abroad".
"In particular, the former FCT Minister was reported to have approached you for re-issuance of his standard passport having exhausted the visa pages of his current passport booklet".
"Meanwhile, a decision has been taken at the highest level not to grant any consular assistance to the duo by all our missions abroad as doing so will further facilitate their overseas travels and enhance their tendency to continue to continue to undermine to undermine Nigeria's image abroad".
"Consequently, you are hereby directed not to re-issue the former FCT Minister with a new passport".
"Above is for information and compliance of all, please".
"Warm regards"


Joe Keshi.
|
Article source