It Is Not About Ngige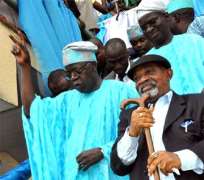 I want us to understand that Anambra Gubernetorial election is not about who, without about what you represented,because apple does not fall far from it,s tree. It is show me your friend and i will tell you who you are.
I want to talk about NGIGE and his Choice of political party ,it is no longer his romance with Chris Ubah ,that was under PDP ,a National party per say but never a tribal one.Chris Ubah selfish interest ends with the money he will make from our coffers ,he was,nt in it to Colonise or hold the state in perpetual bondage.
Now he is in APC ,let us examine the footprint of APC.
In any state under the control of APC ,they will use intimidation ,bribery and outright wickedness to make sure that no other party flies a flag in that state ,if any party locate an office in any APC STATE ,the landlord will be crucified to the extent that he will eject the party or if he is stubborn ,he will have his house pulled down.
If APC can make Lagos a former National Capital a no go area for PDP ,it get's too bad that if any serious candidates wants to showcase under the banner of PDP in Lagos ,he will be giving the FUNSHO WILLIAMS treatment.If they can reduce Lagos to such a scared place ,if they can make it a hostile territory even for a party like PDP ,guess what they have done and will do to other states without a National catch.
Imagine ATIKU with his political and Financial capital ,he merged with TINUBU under ACN ,and Tinubu out played him and made him irrelevant to the extent that ATIKU in other to remain relevant political wise has to run back to PDP.
How about GEN BUHARI ? He was making political noise and pulling weight under CPC ,he was a force to reckon with in Political space but since he joined forces with TINUBU ,he is now a RELIC ,a wasted breath who does not count on any political decision.His opinion does not matter in APC nor his choice ever be considered.
There is no day any issue of APC is discussed and Buhari's opinion will be seeked nor consented ,since then Buhari is dead politically ,imagine a man that will bury two Awusa political heavy weight ,what he has up his sleeve.
Now back to Ngige and APC ,sorry before then ,let us discuss Rochas Okorocha ,the Governor of Imo state ,he gained his political relevance under APGA and for the first time in his life ,he won an election ,what did he do ? ,he followed his masters in the north to enter a devilish accord with APC .
Tinubu made sure he lost everything that counts in is favor ,he lost his voice and magic in Imo state ,they promised him VICE PRESIDENT and before he breath in and out they removed it and gave it to YOROBA ,leaving Rochas with absolute nothing, and he is not sure of finishing his mandate because SUPREME COURT will make pronouncement on it by January 2014.
Back to Ngige and TINUBU'S quest to grab ANAMBRA STATE through Ngige ,imagine the state of anarchy he will import into our state and the ruin he will leave on us ?
Any other candidate may be bad but not with wicked intent like Tinubu ,with TINUBU be rest assured that he will turn it into second COLONISATION and which will never happen,that brings us to the real issue ,,NGIGE IS IN A VERY WRONG PARTY ,a party for the extreme MANIAC.
ALAIGBO CAN NEVER BE SUBJECTED TO A SELF BOUGHT SLAVERY NOT IN 2014.
Disclaimer:

"The views/contents expressed in this article are the sole responsibility of

Mazi Oderaigbo

and do not necessarily reflect those of The Nigerian Voice. The Nigerian Voice will not be responsible or liable for any inaccurate or incorrect statements contained in this article."
Articles by Mazi Oderaigbo