G6 ADVISES JONATHAN TO SUSPEND ERRING MINISTERS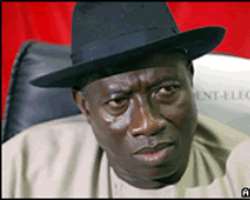 G6 advises Jonathan to suspend erring ministers
From FRANCIS AWOWOLE-BROWNE, Abuja
Saturday, March 06, 2010
Acting President, Goodluck Jonathan
Acting President Goodluck Jonathan has been asked to suspend any minister that undermines his authority or shows any act of disloyalty. Some political leaders from the six geo-political zones, under the banner of G6 Patriotic Group, said Nigerians no longer have patience for non-performance and urged the acting president not to waste further time to tolerate indolence.
They said that the acting president now has the opportunity to right the wrongs of the present administration by reversing the leadership failures.
National coordinator of the group, Chief Richard Victor, in his address during a press conference addressed by the G6 in Abuja, regretted that successive administrations, since 1960, has failed to plan and few that planned failed to realize their development targets.
The group said: 'A good example is the failure of the present administration to realize the self set target of 6,000 megawatts of electricity generation in Nigeria by December 2009. It is disheartening to note that in spite of huge budgetary allocations in trillions of naira, the government has not achieved 40 per cent in the implementation of the budget since 1999.
'The challenges confronting this nation have worsened since the inception of this government in 2007. Unemployment has reached 54 per cent, thus fuelling youth restiveness and upsurge in crime.
Electricity generation has nosedived to less than 1, 000 mw, leading to mass exodus of foreign firms, relocation of some others to neighbouring countries,' he stated.
The national coordinator called on Jonathan to address fuel scarcity, while declaring his organisation's support for deregulation only when the refineries are working and all stakeholders engaged to attain efficient and effective service delivery.
The body expressed worry that rather than tackling the problems in the education sector, government officials and rich Nigerians take their children to Ghana for quality education.
'We take our children to Ghana with less human/ material resources and less universities. Have we forgotten the 1980 Ghana-must-go episode? Now we turn to the same Ghana for our education, what a shame,' he lamented.