PDP Crisis: Presidency infiltrates G7, as some of them hold secrete meetings with President Jonathan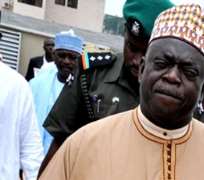 All is not be well with the group of seven governors that broke away from the mainstream Peoples Democratic Party, as the Presidency may have infiltrated their camp, with some of them holding secret meetings with President Goodluck Jonathan.
The governors were among the delegates, led by former Vice President Atiku Abubakar, that staged a walkout during the August 31 convention of PDP to form a breakaway faction, New Peoples Democratic Party.
The governors of Niger State, Babangida Aliyu, and the Jigawa State, Sule Lamido, have been identified as the two weak links in the chain of the governors' resolve.
One of the seven governors, otherwise known as G7, told our correspondent yesterday that they were confused over the next line of action, as they cannot defect to the All Progressives Congress without their supporters in the National Assembly and Houses of Assembly. According to a source close to the Presidency, the president has been holding private meetings with some top members of New PDP, besides the G7 governors, whose meetings with the president have often been publicised.
'Do you think that it is only the G7 governors that the president has been meeting since the crisis broke out on August 31? No, the meeting with the G7 governors is for the public glare, but behind the scenes, President Jonathan has been meeting and making contacts with the top leaders of New PDP.
'The chairman of the PDP Board of Trustees, Chief Tony Anenih, has been very instrumental in this close contact meetings with the top leaders of New PDP and there are lots of give and take and very soon, you will see the outcome of the negotiations between the president and the leaders of the splinter group,' the source, said. THISDAY gathered that it was for the purpose of subverting the governors that the president proposed to negotiate with the G7 based on each governor's grievances and not on a collective basis.
Confusion is said to pervade the ranks of the seven governors as they continue negotiations with APC on possible defection to the opposition party. Our correspondent gathered yesterday that Aliyu and Lamido had already made it clear in the G7 governors' meetings that they would not dump PDP and move to APC. Thisday