You can't return as national scribe, S'West PDP tells Oyinlola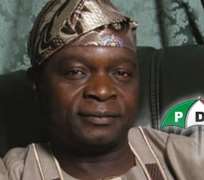 Following threats by members of the new Peoples Democratic Party (nPDP) to ensure the resumption of former Osun State Governor, Prince Olagunsoye Oyinlola, as the National Secretary of the mainstream PDP, the leadership of the party in the South West has told Oyinlola to perish the thought.
The leadership of the party, consisting the Zonal Caretaker Committee, the State Chairmen Forum, the Elders Committee, the Stakeholders Forum, the Organisation and Mobilisation Committee, the Women and Youth fora, said: 'It is the height of self-delusion for Oyinlola and his co-travellers to imagine that he would return as the National Secretary of our great party, the PDP, when a motion for stay of execution has been filed at the Court of Appeal and there is a pending appeal against him at the Supreme Court.'
In a statement issued yesterday by the Acting Chairman, Caretaker Committee, South West PDP, Engr. Adedeji Doherty, the party said: 'It is an indubitable fact that he has since left our great party for a renegade group known as 'New PDP' that has been outlawed by a court of competent jurisdiction.
'The said group has been meeting with the opposition All Progressives Congress (APC).
'In fact, it was on the basis of these and other anti-party acts that some of his loyalists were recently suspended by the Osun State chapter of the party.'
The party wondered where Oyinlola and his co-travellers seek to return him, asking: 'Is it as the National Secretary of a party he voluntarily left or as the National Secretary of his outlawed and illegal group? Why do they want to reap when they did not have the patience for harvest to come? If they knew they had a good case, why did they jump ship?'
It vowed to resist any attempt to arm-twist the national leadership of the party 'to take any hasty decision in view of the obvious and emerging facts of the verdict of the Court of Appeal'
The party urged the police and other security agencies to rise up to the challenge and nip in the bud any act that could lead to a breakdown of law and order 'should Oyinlola and his gang seek to want to take the law into their own hands.'