D'banj and Genevieve should marry; They would be a good couple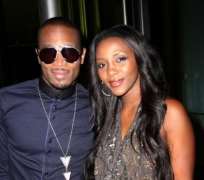 Genny, You and D'banj are a match made in entertainment heaven,you respect each other immensely, you support each others careers,and you obviously have a sizzling physical connection! You and D'banj could be the next Oby Edozie and her musician cum producer husband, Alex Okoroigwe,alias Alex O,even Muma G and Prince Eke if you would only give your romance a chance!
Genny, I know you're loving the single life and waiting for the right guy to come along, but maybe he's been right under your nose all along! D'banj has shown time and time again that he would treat you right and make you happy and Genny, you deserve to be happy, especially after your emotional roller coaster relationship with your ex lovers.
Genny, you and D'banj have proven that you guys have the ability to make beautiful music together both off-screen and onscreen in his best music video,"Fall in Love". It's great that you guys have been able to stay friends after you reportedly hooked up two years ago, and now that you're both single, it's the ideal time for you guys to reconnect.
Genny, building a relationship on such a solid foundation could lead to a lasting, fulfilling relationship unlike anything you've ever experienced with your ex-lovers. You need to find someone special of your own. D'banj is handsome, talented,hardworking and kind.
He's the perfect guy for you. Plus, you two obviously have amazing chemistry and style so you would make a super sexy and good couple.
Genny, it's clear you and D'banj would be the perfect couple.

Dearest readers, sound off below and tell us if you think they should marry.
Story by Austin Aniekie