Togo president 'wins re-election'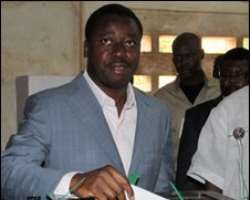 Faure Gnassingbe's family has been in power for more than 40 years
The current president of Togo has won re-election in a disputed vote, electoral authorities say.
The election commission said Faure Gnassingbe, son of a late dictator, had beaten opposition challenger Jean-Pierre Fabre.
He won 1.2 million votes of two million cast, officials said, considerably more than his rival's tally of 692,584.
Mr Fabre had also claimed victory in the election, alleging irregularities in the vote-counting system.
He said that a lack of adequate vote validation meant the count was now "illegal" and that "everything the electoral commission is doing is false".
Street uncertain
Earlier, Jean-Claude Codjo, an opposition member of Togo's electoral agency, walked out of a meeting in protest at what he called a "lack of transparency".
However, the provisional results as declared by the electoral commission showed the incumbent had won a comprehensive victory, widening the gap as fuller results were declared.
Jean-Pierre Fabre said he was confident of victory

The BBC's Caspar Leighton, in Lome, Togo's capital, says that Mr Gnassingbe's win must still be approved by Togo's constitutional court.

The opposition Union Forces for Change (UFC) is sure to challenge them, in court and on the street, our correspondent says, but it is unclear how organised or determined any street protests might be.

The AFP news agency reported that riot police were deployed on the streets of Lome, as the result was announced.

Earlier, police used tear gas to disperse some 200 opposition supporters.

"We do not know what is going to happen. We are all afraid. We do not know how we will wake up tomorrow," one man, named as Jean-Luc, told the agency.