N255m Bulletproof cars & Nigeria's High Unemployment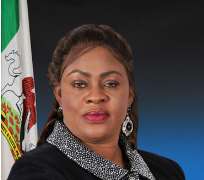 The recent purchase of two bulletproof BMW 7-Series vehicles by the Nigerian Civil Aviation Authority (NCAA) did not really come as a surprise to some of us. Neither did the unrepentant explanation by those involved nor the fact that the Honourable Minister of Aviation shunned the National Assembly to travel abroad in the midst of the uproar. We live in a country of impunity by those in exalted positions.
In case we had forgotten about the security challenges in the country, the purchase of these armored vehicles was meant to remind us that the country is unsafe and very dangerous not just for the average citizens but also for high ranking individuals. The only distinction is that the higher up you rise in society, the more you are able to protect yourself by dipping into our natural coffers.
The initial outrage could have been the sheer magnitude of the amount of the car. It seems exorbitant to pay such an amount for a car or 2 cars. A Ferrari or Lamborghini cost over $300,000 (N48m) and we know it cost around $50,000 to bulletproof an average car. When you add these figures, it becomes mind-boggling especially when we have been fighting for most federal and state civil servants to receive the unlivable minimum wage of N18,000 ($120) per month. Of course, that is if you are lucky to find a job.
There is a bloated unemployed, not to mention the under-employed class. Edo State, which ministerial we believe the Aviation Minister occupies by virtue of marriage, has an unemployment rate of 35.2%. Her State of origin is not faring any better. Okay, a sadist might argue that it is not as bad as Zamfara State with 42.6% unemployment. Maybe we should consult all the graduates, especially those that completed their youth service over 10 years with no hope of a job.
The Bureau of Public Procurement (BPP) has come out to state categorically that the purchase was not approved by it and that the purchase did not follow due process. Apparently, the transaction involved a triangle that included First Bank, Cocharis Motors and NCAA.
You do not need to be too intelligent or analytical to arrive at several possible use of the funds, whether it be more training of aviation staff to reduce fatal plane crashes, remodeling of airports, better meteorological equipment for radar/guidance especially during raining seasons or better security equipment to prevent another (more dangerous) teenager from sneaking onto a flight undetected.
NCAA has incorrigibly responded that it is a tri-partite payment and it is allowable under its 2013 budget for purchase of "operational" vehicles. They even added with alacrity that this transaction was consummated between April and August this year. In other words, why are we complaining now, after the milk has been spilled and when this was an open secret. To top it all, we were informed that it was actually N643m that they spent on vehicles. So, if you think N255m was bad, you might as well go jump off a cliff because it is almost three times that amount that was spent.
We continue to warn Nigerians that only persons that understand their fiduciary duties to Nigerians (and are willing to fulfill them) should be in positions of influence.
There was a young Nigerian Head of State that sheepishly commented that the problem with Nigeria was not that we did not have money, but what to do with it. Apparently, over forty-years after his outlandish statement, our trusted leaders still do not know what to do with our money.
Our position is that the purchase of the vehicles is a slap in the face of Nigerians, especially the unemployed and underemployed.
Disclaimer:

"The views/contents expressed in this article are the sole responsibility of

Prof. Alex O. Atawa Akpodiete, Esq.

and do not necessarily reflect those of The Nigerian Voice. The Nigerian Voice will not be responsible or liable for any inaccurate or incorrect statements contained in this article."
Articles by Prof. Alex O. Atawa Akpodiete, Esq.