NEW TOYOTA PRADO THRILLS GUESTS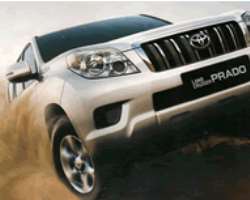 New Toyota Prado thrills guests
•SMS-ticketing too
By Moses Akaigwe [[email protected]]
Friday, March 05, 2010
Recall or no recall, Toyota seems to be riding high, especially in the local market where one of its latest products, the all-new Land Cruiser Prado, thrilled guests who witnessed its premiere in Lagos recently.
It was indeed a moment of glory for the new-look SUV when the Chairman of Toyota Nigeria Limited, Chief Michael Ade.Ojo lifted the veil from the vehicle to reveal a well-sculptored silhouette dimly illuminated by the spotlight and a sparkle of pyrotechnics.
Flanked by some of the front-running Toyota dealers, including Chief Sunny Asemota and Managing Director of Globe Motors Holdings, Chief Ade.Ojo assured that the Prado would carry on with the reputation of reliability in off-road performance earned by its predecessor models. The multi-terrain select and multi-terrain Anti-lock Braking System (with Electronic Brake-force Distribution) were two of the features highlighted at the launch.
The Multi-terrain Select with buttons on the steering wheel, enables the driver decide which, out of the four modes (mud/sand, loose rock, mogul and rock), to choose. Other features relevant to ride control include Multi-terrain Monitor, Steering Angle Display Crawl Control and the Electronically Controlled Kinetic Dynamic Suspension System (with Electronically Modulated Rear Air Suspension plus Adaptive variable Suspension System on the rear).
The Toyota Chairman remarked: 'The Prado is a well-packaged auto invention: an assemblage of what truly constitute the hallmark and imperatives of a typical 4X4. To that extent, it is a unique blend of power and efficiency, an apt interpretation of the catch phrase the beauty and the beast . Tonight, I am pleased to present to you a car that will fulfill all your SUV expectations'.
He commended the customers for their exhibiting understanding of the issue of recall of some Toyota vehicles in some parts of the world, assuring that in line with the customer-first philosophy of the brand and in tandem with the unwavering premium it places on the safety of the buyers, his company had decided to take the proactive measure of carrying out checks on vehicles with numbers identified by the manufacturer
Buyers have an engine range starting from the 2.7litre to the 4.0 litre V6 (both petrol). In between is the 3.0 litre diesel. All are mated to the five-speed super-intelligent ECT (transmission).
The interior has a seating configuration that can be adjusted to create cargo space and accommodate between two and six adults, and when there is no cargo, can take up to seven.