CRISIS IN PRESIDENCY: MEGA PARTY CALLS FOR TRANSITIONAL GOVERNMENT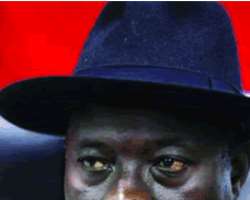 Crisis in presidency: Mega party calls for transitional government
From TAIWO AMODU, Abuja
Friday, March 05, 2010
Mega Summit Movement Caucus has called on Acting President, Goodluck Jonathan, to formally constitute a Transitional Government of National Unity, TGNU, to save the Nigerian people from the consequence of an impending implosion within the presidency.
This call was made at the end of a high level consultation chaired by Chief Olu Falae, Cfr, and attended by eminent political leaders across the six geo-political zones, including delegations from The Buhari Organisation, the Niger Delta region, chairmen of some progressive political parties in the country, among others.
Reading the communiqué at the end of the meeting which held yesterday at the Toprank Hotel, Abuja, Secretary of the Mega Movement, Sir Olawale Okunniyi said an all inclusive transitional government is the only logical step to stemming the subsisting power tussle, logjam and confusion playing out in both the PDP and the Nigerian Presidency and also to overcome the apparent constitutional lapse in the appointment of the acting president since both the FEC and the National Assembly have refused to do so for sinister political reasons.
Okunniyi said the caucus suspects that the real reason why the presidential imbroglio persisted is because the ruling cabal with active support of PDP leadership has refused to own up to the demise of President Yar'Adua according to strong indications that they merely brought back the corpse of Mr President to Nigeria but needed time to manoeuvre before making the announcement.
The caucus, while indicting the PDP for complicity in the whole drama, said PDP is not a political party but a pretentious rally of rudderless merchants whose only interest is profiteering and survival, it is now quite obvious from its present schemes and utterances that it cannot serve the urgent agenda which providence and the Nigerian people have placed at the doorstep of the acting president.
'History will not spare Jonathan if he fails providence; hence the urgent need to systematically reconstitute his government to serve credible transitional purpose of a two point agenda for popular electoral reforms and good governance that can rekindle the hope of the people in democracy and Nigeria as a country.'
The group, while calling on all Nigerians to join hands with the new mega alternative to PDP, said the Abuja caucus parley, which is the first of the two crucial interfaces with MSM stakeholders, also resolved not to adopt an existing party as proposed in other quarters but to form, as soon as possible, a brand new mega party built on the existing structures of the working people of Nigeria in the labour movement.
Okunniyi, however, announced that the final MSM caucus parley holds in Lagos on Monday after which the group will proceed to hold the proposed National Leaders' Summit with Labour and all other parties and groups genuinely committed to building synergy towards change for a new Nigeria.