DEBATE ,ALL ASPIRANTS THUMBED UP FOR OBI EXCERPT NGIGE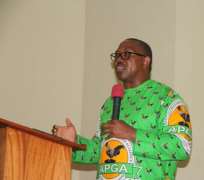 Anambra State Governorship aspirants agreed to follow the footsteps of Governor Peter Obi in areas he is doing very well, especially in the provision of infrastructure and fiscal discipline.
Speaking at live debate organized by AIT, the governorship aspirant of ACPN, Mr. Anthony Nweke commended Governor Obi for fiscal discipline and his ability to stop those he referred to as "buccaneers " from gaining access to the resources of the State, assuring that he would even do better than Obi in that regard.
Agreeing with him, the candidate of CPP, Mr. Austin Nwangwu said that the fiscal discipline enthroned by Governor Obi must be sustained for Anambra to grow from strength to strength.
Other candidates including Dr. Willie Obiano of APGA agreed that Governor Peter Obi had done well but that one person cannot in his tenure solve all the problems of the State and assured that they will continue from where he stopped.
However, the only dissenting voice was Dr. Chris Ngige who said that Anambra State had become worst because of Governor Peter Obi. He questioned everything Governor Obi did and said that he ended up impoverishing the State.
But the candidate of APGA, using facts and figures to the admiration of the audience, Dr. Willie Obiano said that evidently Governor Obi hasd done well and that modesty and propriety called on those desiring to succeed him to aspire to build on his legacy.
On the area of International partnership, Obiano noted that until Obi come no international Agency was working in Anambra state. He said they all came back because of Obis prudent and fiscal responsibility. He pledges to follow the same path.
In education, Obiano commended the return of schools to the missionaries by Obi Administration and support being given to them through billions of Naira in grant which he noted had led to improved performance of Anambra State in various external examinations. Besides, he promised free education in primary and secondary schools, as well as drastic reduction in the school fees of the tatially institutions in the State.
Noting the improvement on health sector that led to accreditation of different health institutions by the provision of equipment and infrastructure, he pleaded to continue on the same part.
As the debate was going on, a mild drama played out when security agencies refused 5 trucks loaded with people from entering the venue. The occupants of those buses protested that they were not thugs as branded, but members of Ngige campaign organization who have come to cheer up their candidate.