UNVEILING SAMUELSON, THE CRUSADER AND KEYAMO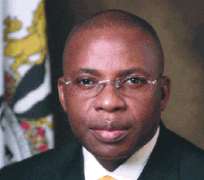 Unveiling Samuelson, the crusader and Keyamo
By Titus Uzoma
Friday, March 05, 2010
In the last few weeks or so, a self-styled social crusader has been raised to the level of a hero by some sections of the media ostensibly working for Festus Keyamo, the legal practitioner that enjoys media trial.
Unfortunately, most of the media comments and opinions draw the sources from the Samuelson-Keyamo camp which confirms the belief that the people behind those media assault on the person of the Governor of Imo State and the government care less about the basic principles of media practice, which coincidentally is the life-wire of jurisprudence-audi alterem patem rule.
Before the launch of Clean and Green Initiative in Imo State, little was known of a Samuelson, either as a social crusader or critic.
Like most other 'casualties' of the urban renewal drive of the state government, Samuelson operated an illegal kiosk (where he sold kerosene) that defaced a street in Owerri, the Imo State Capital.
Such urban renewal efforts as we have in Lagos, Rivers and Cross River State claimed such illegal structures and the persons whose businesses were affected, moved to other places to ply their trades.
Samuelson would not have any of that and he found allies in the opposition camp and willingly signs every release or write-up of the lettered members of the opposition no matter how libelous. Some informed people who had had cause to accost him on the tirade of assault that carries his name were surprised that he was on a vendetta because of his illegal structure that was demolished.
Structures were demolished in the states earlier mentioned and more, how many of the people went into the trenches to abuse Fashola, Amaechi, Liyel Imoke etc on the pages of newspapers and internet? Would some of the media houses making a hero out of Samuelson have provided space for these respectable Governors to be abused daily? Is it because it is an Ohakim and his government?
How low can people go in the name of opposition recruiting a barely lettered man to sign write-ups he cannot even explain the meaning.
The said Samuelson that is obviously a medium of some known Professional critics of the government has held on for a long time and no one among the new found media interventionists called him to order.
Now that the law has caught up with him, then Samuelson has become a 'living martyr'. Must people's integrity be impugned, mud splashed on them and all forms of indignity visited on them simply because they offered to serve their state and people?
It smacks of descending to the arena of conflict for any journalist worth his calling to provide platform for individuals to malign others in the veiled tag of opposition.
The most brazen of these sponsored media assault was an advertorial published in Thisday Newspaper under a faceless organization and signed by same Samuelson at a time he was in detention. Could he have signed the advertorial while in police custody?
Samuelson claimed that the governor of Imo State flogged him. The Governor through his aides said that Samuelson's claims were only in the figment of his imagination and perhaps that of a demented mind seeking sympathy. How come that some of the media commentaries refused to take cognizance of these two positions. So Chief Ikedi Ohakim does not have relations, wife and children who should feel bad that he is being messed up by nonentities.
What kind of society are we building? We should be mindful of the kind of wrong signals we send out about our leaders.
Anyone in government must-be-guilty-of-any-accusation-leveled-against-him syndrome may ruin this country. And this disposition by some opinion holders seem to embolden all sorts of characters to take liberties in circumstance that are unwarranted. Festus Keyamo's case is understandable. As a legal practitioner who thrives on hype, plenty noise and grandstanding, behaving true to character would not be a surprise and the Samuelson matter cannot be an exception.
Further to this, Keyamo has carved a niche for himself as a pathological wolf crier and he fancies media trial and no one seems to have called him to order.
Imo State people know better between Samuelson (and his patrons) and Governor Ohakim who to believe. Keyamo can as well earn his living by deifying desperados but it should be placed on record that even a madman has Kinsmen.
Should legal practice be deployed to intimidate people? Are legal practitioners supposed to dance naked in the market place to make a point? What should be the right character of a social crusader? These are soul-searching questions for the Keyamos and their brand of social or rights crusaders.
Could it be said that the rights of people in government should be in abeyance simply because they offered to serve?
One can now understand why only criminals make better politicians because they care less about how people call them names. After all, someone on the ground fears no fall.
If respectable professionals can offer to serve, could that be an invitation to personal attacks. Haba!
Democracy is steadily being raped by default and the so-called rights crusaders should learn to stand on the side of what is right no matter who is involved.