Lagos proposes N489.690bn budget for 2014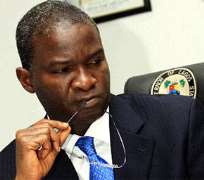 Lagos State governor  Babatunde Fashola on Wednesday proposed a budget of of N489.690 billion for the year 2014, targeted basically at completing ongoing projects in the state.
In the budget presented to the state House of Assembly, Fashola is N234.665 billion recurrent expenditure and N255.025 billion capital expenditure. The budget size is slightly lower than that of 2013 which was N499.105 billion.

The budget is the last full-year budget Fashola will be implementing before the expiration of his eight-year tenure midway into 2015.
He said the budget would be directed at completing ongoing projects, as well as consolidate on the gains so far made.
Fashola, speaking on the recent announcement by the Federal Government that a $200 million World Bank loan had been approved for Lagos to fund capital projects such as the light rail, Adiyan Water Works among others, emphasised that the approval was coming rather late.
'You might all recall that in 2010 when I presented the year 2011 budget, I announced that we had negotiated a World Bank loan for $600m to fund a three-year medium term expenditure framework for years 2011, 2012 and 2013 which required Federal Government approval.
'Although the approval for the loan was given then and the year 2011 first tranche for $200m was released in that year, the year 2012 and 2013 tranches were frustrated by Federal Government agencies,' he said.
He added that the state's development was held up and slowed down for about two years since the 2012 and 2013 components of the loan are now being approved in the last quarter of 2013.
'In truth and in fact, our state's development was held up and slowed down for 2 years. Progress on the rail was held back, supply of additional 70 million gallons from Adiyan Water Works was slowed down, and progress on Lagos Badagry Expressway was equally slowed down,' he said.
He lamented that the state has had to borrow money at shorter tenures of seven years and higher interest rates of 14% and 17%, instead of 1% and 40 year tenure which the delayed World Bank loan offered.
'But nevertheless, our spirits are high, the high interest costs notwithstanding. I am pleased to report progress on these construction sites which provides employment for 1,000 workers on the rail project and 500 (Five Hundred) workers at Adiyan Water Works. The promise of reliable rail transport system for Lagos and an additional 70 million gallons per day of water when Adiyan is completed makes it all worthwhile,' he stated.
He also alleged that in addition to the aforementioned challenges, FERMA, another Federal Government agency, is threatening to start collecting fuel levies, which is a matter within the residual revenue authority of the State.
'As I have said before, we will resist this incursion by taking legal action to stop the desecration of our fiscal federalist principles,' he said.