Lawson to step down as Chairman of Ecobank Group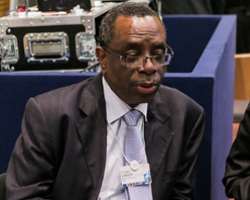 Mr Kolapo Lawson has stepped down Chairman of the Ecobank Group.
The action, which will take effect from December 31, 2013, followed protracted case of insider dealings which the chairman had been at the centre
.
Lawson is under investigations by Nigerian Securities and Exchange Commission over these dealings, which breach instant laws of the commission.
'I therefore step aside as Chairman of Ecobank Transnational,' Mr Lawson said in a statement issued by the Bank on WEdnesday.
According to officials at the Togo-based Pan-African lender, Mr Lawson will handover to Mr André Siaka, the Board's Vice Chair, to take over as interim Chairman with immediate effect.
Mr Lawson has been Chairman of Ecobank since 2009.
He was a director of Ecobank Nigeria from 1989 to 1997 and of Ecobank Togo from 1990 to 1993.
By Ekow Quandzie
Top of Form