Amosun Reshuffled Cabinet, Positions Loyalists for Elective Posts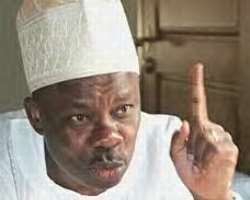 Ogun State Governor, Senator Ibikunle Amosun (FCA), may have begun his political moves in a bid to secure his second term in office.
Information available to the Nigerian Voice indicated that the Governor chaired a Party meeting on Monday, where elders were nominated across the 20 Local Government Councils to form Consultative
Forum in their respective Councils for "politicking".
In the same vain, the man who has been calling the shots as Deputy Chief of Staff to the Governor, Alhaji Shuaib Salis has been redeployed as Special Adviser (SA) on ICT. It is also believe that the governor also redeployed one of his protégés, Mr. Adekunle Akinlade (SSA) on Taxation and Revenue to the Ministry of Social Development.
Others affected in these strategic changes in the cabinet include, Alhaji Fari from Physical Planing to Special Duties; Chief Odeyemi to Physical Planing from Special Duties; Mr. Tunde Sanusi, SA Social Development to Environment; Omolayole (SSA) to Special Duties; Mrs. Balogun (SA) Environment to Special Duties, Dr. Olokun, Mr. Dipe becomes SA Physical Planing.
These changes will be formally announced soon, sources told the Nigerian Voice. The Redeployment of those close aides of the Governor investigation reveals is to allow some of these men pursue their political aspirations. For instance, the former DCoS is believed to be nursing ambition for the Senate, while SSA Taxation & Revenue is aspiring to represent Ipokia/ Yewa South Federal Constituency at the National Assembly come 2015.
Our sources revealed further that more redeployment may follow in the coming weeks. Unlike the Oyo and Kwara experience where there were major shake ups in the cabinets of those states, Amosun is applying tactics not to rock the boat as he needs to keep the party intact ahead of the 2015 elections.
The people who are loyal to the former Governor of the State, Aremo Olusegun Osoba, are reported to be working against the interest of the Governor. All efforts to bring the two leaders of the ruling All Progressives Congress, APC, to the round table to resolve the lingering crisis have not yielded the desired result.
The opposition party, Peoples Democratic Party, PDP is also in disarray as there are no signs the party is ready to give the ruling APC any fight in the forth coming elections. Another party which is showing some signs of presence in the State is Labour Party.