Senator Chris Ngige: Psychoanalysing A Loose Cannon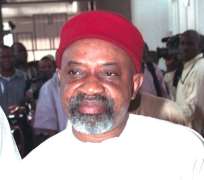 When I first thought of writing this piece, my first inclination was to look at Senator Chris Ngige from the Aristotelian definition of a tragic hero. But I soon realized that the APC gubernatorial candidate for the coming election in Anambra State falls short of the minimum requirements of Aristotle's definition of a tragic hero which says that he must be of noble character, occupy a high status and possess a tragic flaw that will eventually lead to his downfall. Sadly, the only way Senator Ngige will fit into this definition is if we choose to exercise some authorial prerogative and substitute 'nobility' with knavery. And since that would be only half the truth, the wise thing to do would be to simply look at the Alor, Idemili-born politician from the Public Relations perspective.
Truth be told, the APC gubernatorial candidate has all the makings of PR manager's nightmare. Unbending, tactless and vainglorious, Ngige comes across as one man who would make the best Public Relations manager dread his job. The story of Ngige as we know it is the story of an actor who has a natural tendency to abandon the script halfway into the performance and cast himself in a different role. Such characters do not lend themselves to ease of a programmed reputational management. Their PR team is quite often hard-pressed to invent quick excuses each time they veer off the script or stumble through one infra-dig after another. Or when they shove a prepared speech down the drain and go on to make a regrettable public comment. There is always a price to pay and quite often the reputational cost is huge and avoidable.
What may surprise anyone who cares to look more closely, though, is the fact that the erstwhile rogue governor of Anambra State has a remarkable native wisdom and an extreme street smartness. The bigger surprise however is that in spite of his foxy nature, Senator Ngige never seems to stop shoving his own foot in his own mouth. The diminutive senator has made a high art of gliding from one public spat to another and thumbing his nose at the world. It just might be that Senator Ngige is merely working his own destiny, watching his own life play out before the world like a soap opera. It might also be that, Ngige could and should actually change the script for his own good.
Quite naturally, since the race for the gubernatorial election in Anambra State began to gain serious media attention, many people have been on the look-out for Ngige and his strange ways. And well, he has not disappointed them. Indeed, Ngige never disappoints on matters of mistimed political high-drama. Not when he has the eyes of the world on himself; and of course, when he doesn't, Ngige has a capacity to wrench attention from anything else and have it trained on himself.
Only a man imbued with all the characters flaws of a tragic hero but lacks the nobility that makes tragic-heroes admirable would do the things Senator Ngige does. Who else could have dragged iconic figures like Bola Tinubu, Adams Oshiomhole and Babatunde Fashola to Onitsha to desecrate the Ofala festival but Chris Ngige? And who else would have mustered the derring-do to lie about it by claiming that he got the permission of the Palace of the Obi of Onitsha to stage a rally on the Ofala day? The painful thing about Ngige's wilful desecration of the culture of Onitsha people is not merely the very act itself but the concerted effort to mislead the people and unwittingly make the rather urbane Obi of Onitsha, Igwe Nnaemeka Achebe look unreliable. Ngige's camp successfully did this in their trenchant media campaign which ran in virtually all notable newspaper in the country in which Ngige and Uche Okonkwo-Okom, a chieftain of APC claimed that Ngige's rally received the approval of the Onitsha monarch before it took place. Only a tragic-hero without the redemptive virtue of nobility would make a public claim that puts an innocent party up for doubt and ridicule.
Happily, Ngige's puny attempt at subterfuge came crashing on its face when in a notice published on page 52 of Daily Sun on Friday, October 25, the Ime-Obi (The Palace) of the Obi of Onitsha lamented what it termed the "painful disdain of Onitsha culture and tradition by those who should know better." The Ime-Obi wondered why Ngige should aggravate the sacrilege he had committed saying thusly – "Rather than recognize their misdeeds and offer sincere apology, they have sustained their disrespect by further unnecessary media spins. Indeed we are totally at a loss why the party chieftains would want to denigrate our monarch and tradition in the presence of governors and persons from other parts of the country who, to the best of our knowledge, are most respectful of their own monarchs and traditional institutions." If anyone had wished to give Ngige the benefit of the doubt, this carefully worded public disclaimer on Ngige from the Obi's Palace clearly emphasises that the Senator did not only lie against the most cherished tradition of Ndigbo but lacks the moral fibre to say "I am sorry," thereby disqualifying himself from the narrow footpath that every prodigal resorts to when they lose their way.
While this might seem perplexing to people who are just getting to hear about Chris Ngige, his close friends believe that the senator comes almost fully made for trouble, controversy and bitterness. He is not one to hang around much in a scene where there is no intrigue. It was this innate predilection to mischief that egged him into signing a pact before the Ogwugwu deity in Okija with his estranged godfather, successful businessman, Chris Ubah.
Again, we see in his pact with Ubah, the ambition which would have set him up for consideration as a tragic hero. Before he met Ubah, all that Ngige had was ambition and no more. He wanted to be the next governor of Anambra State but he lacked the funds to fertilize that dream. Again we see him veer off the trajectory of true heroes when he reneged on the pact and broke the contemporary aphorism of honour among thieves. Every time he comes close to fitting into an admirable profile, Senator Ngige falls below the mark. Not even his dramatic attempt to explain his collusion with Ubah in the widely reported gubernatorial debate which he lost to Chief Willie Obiano of APGA could give him the veneer of respectability. When asked what he was thinking when he took the Holy Bible to the Shrine to seal a pact with his estranged godfather, Ngige had launched into his trademark histrionics. He compared his visit to Okija shrine to the temptation of Christ when Satan led him to the pinnacle of the church and promised him the world and its riches if only he would bow down to him. And Christ refused. But unlike Christ, Ngige accepted the Ubah offer, followed the pact for a while and suddenly turned around and rejected it. To that extent, Ngige's analogy was just as flawed as Ngige. There was nothing ennobling in riding to power on the back of a tiger as such adventurer always ends up in its stomach. Just as former Governor did – becoming a captive of his own intrigue.
In truth, there must be something in Chris Ngige's character that makes him deaf to the chant of logic and reason that presumably surrounds him. It must be that he turns a deaf ear to good advice. How else would one rationalize his troubles with the church? His recent alleged slapping of Rev. Fr. Evaristus Ezekwonna at a burial ceremony in Nanka is merely an addition to Ngige's seemingly endless tussle with the church which began during his days as an impostor governor of Anambra State when his efforts to legalize abortion drew the ire of Pope John Paul II. Although his media handlers have made futile efforts to refute the story, claiming that the Senator was not personally involved in the physical assault on Fr. Ezekwonna, it makes little difference that he allowed his security detail to beat up a Catholic priest at election time in a predominantly Catholic stronghold. Time and again, Ngige leaves his reputation managers scratching their heads.
It was pretty much the same scenario when without any proper or deep reflection; the Senator flew off the handle in defence of the deportation of his kinsmen from Lagos State by the APC governor, Babatunde Raji Fashola. Rather than allow the issue some time to simmer and give himself more time to weigh his comment, Senator Ngige spoke up in support of the deportation, dismissing his aggrieved people as "homeless destitute," who were lucky to have been re-united to their kit and kin by the benevolence of the Lagos State government. Ngige's utterance has been largely interpreted as the act of a power-monger who needed to rub the back of his new kingmaker. But that is hardly plausible at close scrutiny. Couldn't he have found a better way to pay homage to his new godfather without antagonizing the people whose support he would soon be seeking to actualize his quest to become governor? Again, only Ngige knows. Perhaps it is it is all part of being Chris Ngige.
I began this article in the hope of painting a portrait of a tragic hero but much to my own surprise, what has emerged from the canvass is the silhouette of a loose cannon – an unpredictable and uncontrolled character who is liable to cause unintentional damage. Some people might see him in the mould of an iconoclast or a maverick but Ngige truly lives out the meaning of his name. The Igbos have a saying about Ngige that loosely translates to – the chicken that is perching on a rope sways to the rhythm of the beat each time the rope itself sways.
Indeed, since Chris Ngige burst onto national consciousness with his violent clashes with his estranged godfather, Chris Ubah, the APC gubernatorial candidate has continued to dangle on the ropes of negative public opinion that arose from his many misadventures. The tragedy of his fate however is that he has managed to drag along with him the reputation of many APC figures who were hitherto regarded as the quintessence of national grace and elegance.
Sule, a Public Relations consultant, writes from Lagos ([email protected])
Disclaimer:

"The views/contents expressed in this article are the sole responsibility of

Rodney Sule

and do not necessarily reflect those of The Nigerian Voice. The Nigerian Voice will not be responsible or liable for any inaccurate or incorrect statements contained in this article."