Nigeria demarcates border with Niger, procure vehicles for joint patrol operation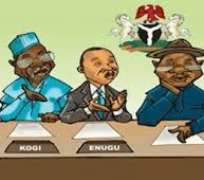 The Federal Government has announced that the National Boundary Commission (NBC) has concluded the demarcation of Nigeria-Niger Republic border and has also procured patrol vehicles to boost joint security operation along the border.
The Minister of State for Foreign Affairs II, Nurudeen Mohammed, disclosed this to State House correspondent today at the end of the sixth meeting of the board held at the Aguda House in the Presidential Villa and presided over by Vice President Namadi Sambo.
He said the decision followed recent increase in the activities of Islamic terrorist sects, Boko Haram in the northern part of Nigeria, which shares a long border with Niger Republic.
Mohammed recalled that similar successful demarcation of Nigeria-Cameroon border, which has similar security concerns.
Speaking more on Nigeria, Cameroon relations, the Minister said all the required structures have been put on ground to bring both countries closer. He admitted that the relationship  between both countries before now was viewed with suspicion and hostilities by the Cameroon but Nigeria's commitment especially with green tree agreement the relations has improved both at expertise and diplomacy level.
He disclosed that the NBC was working to get Nigeria's intercontinental shelf to be extended by 150 nautical miles so as to increase the country's area of influence in the Atlantic Ocean.
Director-General of the NBC, Dr. Ahmed Mohammed added that apart from how to enhance funding of the Commission's activities, the meeting also deliberated on resolving outstanding internal boundary conflicts in the country.
That includes the border dispute between Kogi and Anambra states which escalated over a refinery set up in the Anambra side of the border, having discovered crude oil in commercial quantity within the region.