Madoff has insisted all along that J.P. Morgan knew about Ponzi scheme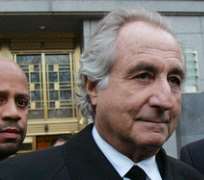 'It was very obvious to the banks what was going on.'
Bernie Madoff has been insisting for five years that the banks knew and were complicit in his massive Ponzi scheme, that defrauded customers out of billions of dollars and left people devastated.
'With me, they turned a blind eye,' said Madoff in an in-person interview in early May, at a federal prison in Butner, North Carolina.
Madoff spent much of the two hours emphatically insisting the banks on Wall Street were complicit in his Ponzi scheme, but left him alone because he was a major client for them.
'This is not a matter of taking my word for it, they (the authorities) don't have to take my word for it,' he said.
He specifically pointed fingers at J.P. Morgan Chase & Co. JPM 0.04% as a major culprit.
J.P. Morgan is under all kinds of regulatory scrutiny and pressure to abide by the letter of the law after the London Whale scandal and is now in a new spotlight with regulators over Madoff, reported the New York Times on Thursday.

Federal authorities are considering action in a criminal investigation against the firm on charges that it turned a blind eye to Madoff's Ponzi scheme. The report says the bank may face a fine and other concessions in return for a suspended criminal charge.
In the May interview, Madoff insisted that J.P. Morgan got information from the Securities and Exchange Commission that would have showed  financial reports didn't match customer statements.  Madoff's firm, a private brokerage company that does business with the public, would have had to provide balance sheet information to regulators.  J.P. Morgan could not be reached for a comment.
'From my first interview to the media I have said that 'the banks must have known,' and were complicit and contributing to my crime,' said Madoff.
Reuters