Traffic Jam: Teenager, Middle Aged Man Die Of Exhaustion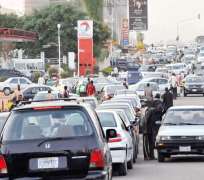 Two persons have died on top of the Niger Bridge, Onitsha in Anambra State, following a heavy traffic jam on the bridge.
The victims, a middle-aged man and a little child, allegedly died due to exhaustion arising from the long hours spent in their vehicles while trying to cross the Niger Bridge, which passage for some time now has remained a nightmare to both transporters and their passengers.
Reports say that one of the deceased, whose identity was not immediately known, was a minor who was coming back with his mother in a commercial bus from Lagos, while the second victim was a trader who travelled all the way from the north to Onitsha to sell his goods.
While the small child died instantly on her mother's lap at the bridge, the businessman died minutes after crossing the bridge to Onitsha from the north.
The child had cried for a long time due to heat in the vehicle, before the mother eventually discovered that her child was no longer breathing.
The bewildered mother was said to have become hysterical — she burst into tears running helter-skelter when she discovered that her child whom she thought fell asleep was actually dead.
The federal government had repeatedly promised in the last 30 years to build a second Niger Bridge to ease traffic congestion on the bridge, which is the gateway from Lagos and other south-west states to the south-east and south-south.

leadership