GUS 10: Ifunanya beats the ladies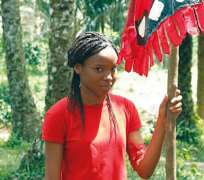 For the Anambra State born Ifunanya Onike, Gulder Ultimate Search 10 adventure is already a success whichever it goes.
Is she  doesn't eventually win the ongoing spectacular show, she aleady sure of one prize: N1 million for being the last girl standing.
But never rule her out of the big prize. The moderately built young lady has shown the character of one that can go all the way.
The anchor of GUS 10, Chudi Mokeme, did warn the four men remaining in the contest, not underrate the capability of Ifunanya.
Already, the young lady is sure of N1m, which the position attracts regardless of what she eventually wins at the end of the competition based on her performance.
Three contestants, Martha, Tracy and Anthony, have been booted since the coalescing of the Spear and Sword tribes last Sunday.
With that development,  the remaining contestants from both tribes were fused into the Hammer tribe, which brought an end the mentorship of Dominic Mudabai and Ezugo Egwuagwu who mentored the contestants while they were in separate tribes.

Tracy, which gave Ifunaya a contest for the last girl standing, was given the boot on Firday after she turned the weakest performance in the eviction show.
Martha now joins her twin sister, who had been evicted from the show weeks earlier though she said she was disappointed leaving the show at this time.
'I feel happy joining my sister because I felt I had been away from her for so long. We were not in the same tribe so we only got to say hello/hi, we never got to interact and talk to each other.'
Anthony had thought he would be among the top three finalists and he is still in shock that he was evicted.
'My eviction came to me as a big shock actually, I did not expect it but that's Gulder Ultimate Search for you, you have to expect the unexpected. I have that endurance but the ability to really calm down and reason is quite a bit difficult for me and we have been without food for some time now. Everybody's system is not the same.'