PARENTS OF 25 YRS OLD MURDERED MAN CRY OUT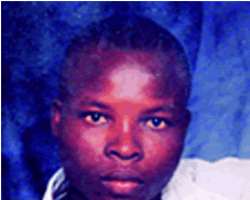 Parents of 25-yr-old murdered man cry out
.We want to give our son decent burial
.Eight months after murder
BY FAVOUR ONWUKA
Thursday, March 04, 2010
Ekene
Eight months after their son, Ekene Mordi, was murdered in Ubulu-Uku, in Aniocha-South Local Government Area of Delta State, by suspected cultists, the family says they are yet to receive his corpse. The family is also worried that the killers are still moving about freely in the community.
The family, which is still in shock the way the 25-year-old man was butchered like a dog, is demanding for justice.
Elder brother to the deceased, Godwin, who spoke to Daily Sun in Lagos recently, appealed to the Inspector-General of Police, Mr. Ogbonna Onovo, and the traditional ruler of the town, His Royal Highness, Obi Akaeze Ofolue, to intervene and prevail on the cult group to release the dismembered body of their son to the family for a decent burial.
Godwin said: 'The spirit of our brother is hovering around. His blood is crying for justice, yet the police have refused to arrest two other members of the cult group, who are walking freely in the streets of Nigeria, even in Ubulu-Uku.
Narrating how his younger brother was allegedly butchered by the bandits, led by one Tobe, he said the victim had visited his home at Isho quarters, Ubulu-Uku, from Owerri, Imo State, where he was learning a trade before his tragic death.
He explained that the victim decided to go to a wake of a prominent community leader. According to him, the deceased complained that the music played by the DJ was not befitting of a burial, and allegedly asked him to play songs that reflected the mood of the people.
According to him, Tobe and his gang members challenged the victim, questioning why he should order the DJ to replace the hip-hop music with another one. Godwin said his brother tried to explain to him and members of his gang that he meant well. But Tobe told him he must pay with his blood for challenging them,' he said. He explained that Ekene, who thought Tobe was issuing empty threats did not take him seriously, until other members of his gang, who were all dressed in black outfit stormed the place, threatening to beat him up.
He said few minutes after Ekene took refuge somewhere, a member of the cult group, Chinedu, came to where he was staying and pleaded with members of the family to allow him to go home to enable him prepare for his journey back to Owerri, the following day.
According to him, the people, who did not suspect that the boys had sinister motive, fell for their tricks as they allowed the victim to leave their house.
Godwin, who wept as he spoke to Daily Sun, said a few metres away from the house, the suspects dragged him to a house, where Tobe was already holding a cutlass, waiting for him.
He said: 'We were told by a member of the family where Ekene was dragged to, that the cult group held them hostage when he (Ekene) was brought in.' When Tobe saw the victim, he ordered him to lie down even as he was pleading for mercy.'
'Tobe started butchering my brother, until he was satisfied that he was dead,' he said. He said though, the brother did not die on the spot, two members of the group, Chinedu and Kingsley, rushed him to a nearby hospital, where he was confirmed dead.
According to him, Kingsley and Chinedu took away the corpse, which was later dumped in a mortuary. 'We cannot have access to our brother's corpse. So, we are begging that they release it for burial,' he said. He said that Chinedu and Kingsley, who the police claimed were declared wanted, are working about freely. Grieving Godwin has therefore, appealed to Onovo and well-meaning Nigerians to help bring the suspects to book.