WHEN SECURITY FAILS…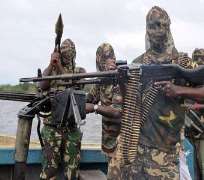 For a very long time, man has depended on the Government for the safety of his life and property. The Government on its part, aware of this responsibility, does everything within its powers to ensure that this right is not tampered with.
Government achieves this through the security agencies, of which the Nigeria Police is principally empowered to discharge this function. For quite some time now, the security situation in the country has being challenging, largely made possible by the activities of the dreaded Islamic sect- boko haram.
On the other hand are the issues of kidnapping, robbery, assassination, plane crashes, just a few to mention, which also constitute threat to life. What actually baffles me most as I write this piece is not that our lives are in danger- a trend we are long aware of- but that those whose primary responsibility is to protect our lives are threatening to go on strike when and where we need them most.
The gravity of their action is perhaps best understood by those in uniform or their close associates. Having been brought up in the barracks as a son to a security officer, I have been to several states within the federation each time my father was transferred.
He never stayed in one place for a long time, and all he told me was that he signed for it the very moment he joined the Force, and that anywhere his service was required, he was ready to go there even if the 'atmosphere' was unfavorable.
To this end, it is indeed nauseating that police officers who have served in the Force for years were transferred from Imo state to other states within the Federation, and they threatened to go on strike on the grounds that their lives are at risk.
Alas! We are doomed. Those officers are perhaps the ones with the temerity to air the despondency, hopelessness, and inability of the Force to contend with the forces that seek to destroy our lives. In other words, they are the ones that came out to tell the world that they cannot protect our lives anymore.
Little wonder, security men are being disarmed and killed so easily at a slight confrontation, and usually flee for their lives even when they have all it takes to repel such attacks. A man overcome by fear has lost the battle even before it started.
On another note, it is not far from the truth that patriotism is ebbing, if at all it ever existed in those security officers. Patriotism is lacking when a man lackadaisically does what he has undertaken to do for his nation, and allows self deference to take precedence over and above national interest and allegiance.
This is how we know those who joined the Force for purposes other than to protect lives and properties. However, to join any Force in search of daily bread is not only suicidal, but callous and pandemic to any nation. By the exposure of this trend, it can be inferred that some of the police officers in the troubled states have tried relentlessly to be transferred out of that zone. Hence, they are now working by compulsion as there is no way out. That's bad!
In the light of the foregoing, it is crystal clear that the present security system in the country is a failure; and now that security has failed, our lives appear to be more in our hands than in the hands of any other. What more should we expect? Citizens have begun to explore and adopt means by which they can safeguard their own lives and properties.
I was little surprised when Aviation Minister, Stella Oduah, purchased two bullet-proof vehicles worth N255 Million towards this purpose. Though the huge sum, which is tax payers' money, gives me worry and concern, I believe she is trying to send us a signal that she no longer feels safe with the security the Government has put in place. When security fails, corruption is just but one vice amidst others.
We also cannot say the Government is unblemished in this matter. What has the Government done to honor those who have lost their lives in active service to their fatherland? The story is usually one: their families suffer grave hardship and are usually forced to vacate the barracks, and the payment of the deceased benefit is more difficult to secure than getting a new job.
Why therefore should we expect the living officers to risk their lives when they know that their families will live miserably after their death? It's high time the welfare of security personnel became a priority for the Government.
In the fight against terrorism and other security challenges bedeviling this nation, I will never cease to commend and sympathize with those young, gallant and enthusiastic youths, who have sacrificed their lives even when there is no obligation on them to do so, thereby treading joyfully and courageously the very sand that trained security personnel are shying away from. And since they can do that, decorum would require that such act of cowardice on the part of those police men be disciplined.
Ntayi Bandawa writes from Abuja
Contact: [email protected]
@NBandawa
Disclaimer:

"The views/contents expressed in this article are the sole responsibility of

Ntayi Bandawa

and do not necessarily reflect those of The Nigerian Voice. The Nigerian Voice will not be responsible or liable for any inaccurate or incorrect statements contained in this article."