Ogun demolishes 100 buildings for road projects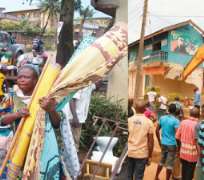 The Ogun State government on Monday demolished about 100 buildings as part of its road expansion project.
The demolition, which began around 9am, affected structures on both sides of the Ojodu/Alagbole road at Yakoyo and the Sango/Ijoko road all the way down to Ogba-Ayo.
Shops, residential buildings and shanties were lost to the demolition which was carried out to clear structures within 22.7 metres from the road. It was said to have lasted well over six hours.
At Ogba-Ayo along Ijoko road, a shopping complex housing over 70 shops, two petrol stations and scores of residential buildings were destroyed. As of 4pm, Sango residents, whose buildings had also been marked for demolition, were seen hurriedly moving their valuables in preparation for the demolition that would continue on Tuesday (today).
Some landlords and few of the residents at Yakoyo, lamented the demolition of their buildings without adequate notice to prepare them for the exercise.
They alleged that the Governor Ibikunle Amosun administration did not compensate them or map out a resettlement plan for the people affected by the demolition.
It was gathered that the state government had said initially, that it would only clear structures within 5.2 metres distance from the road. This was later increased to 13 metres and then 22.7 metres.
Many residents were caught unawares by the demolition and appealed for time to evacuate their property. Others protested the demolition and were seen making frantic calls to officials of the state government.
It was observed that some residents were not at home when the caterpillar began pulling down some structures.
Around 9.30am, an officer from the Bureau of Lands addressed a group of landlords.
The unidentified officer said, 'All I will advise you is that you should take the pictures of your property and take to the Bureau of Lands for documentation. The issue of forms and letters do not concern the governor. Once he comes and gives orders that work should begin, we must begin to work. If there is any report that nothing has been done, they could send in policemen and I don't want that here. Just get evidence that you are the owner of the house.'
As the demolition continued, some of the residents wept.
The Permanent Secretary of the Ministry of Works and Infrastructure, Kayode Ademolake, noted that the residents were opposed to change in the state.
He said, 'They were served two years ago and even in the last three months, we still reminded them. But you know that even if you give some people 1,000 years, they will still continue to be there. When development is about to take place, there will be resistance, so we are not surprised.
'No responsible government will however continue to watch a road that has been degraded for over 30 years without doing something about it.
'Some of these people don't even have proper documentation for their houses, and yet the government is ready to compensate them for their losses.' - Punch.