NPA HAS NO DEVELOPMENTAL PLAN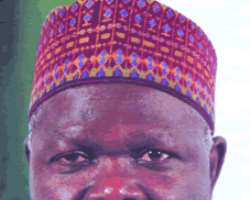 NPA has no developmental plan - Minister
By STEVE AGBOTA
Thursday, March 04, 2010
Alhaji Ibrahim Bio
When the Minister of Transport and former Speaker, KwaraState House of Assembly, Alhaji Ibrahim Bio, was appointed minister, he did not pretend to know it all. In fact, he said that he was a neophyte in the maritime industry but was ready to learn.
Few months after, Bio has not only learnt fast, but has been working extremely hard to reposition the transport sector. During a chat with Walter Ukaegbu at his Abuja office, the Kwara State-born pharmacist spoke on transport issues.
Cabotage implementation since 2006
In the area of this Cabotage Vessel Financing Fund (CVFF), the Cabotage Act has been established with the view to give Nigerians the capacity to play a very vital role in the maritime industry. Either to own one of the vessels or be able to have both ship building industries and maintenance of dockyards.
And ever since the enactment of this Cabotage Act, very little has been seen in the industry and coupled with the CVFF which had been able to accumulate certain appreciable amount of money which are desirous of disbursement but the modalities to do that and ensure that it is transparent and at the same time, the right few people had been able to gain in this fund has been the one we have been working upon. And I have given the Director-General of the Nigerian Maritime Administrative and Safety Agency (NIMASA) the mandate while the projects dear to my heart is CVFF. But we have some money may be some 40 million US dollars which in our own mind is not enough, we are looking for other sources of improving.
How many banks are involved and how are they going to disburse the fund?
However, we have identified primary lending institutions which are the banks. They had advertised banks' options, they had been able to analyse and we compare about four and I am sure their job will soon be out. Those banks will primarily be lending institutions. The NIMASA will be responsible for 50 per cent of the loans required for vessel acquisition or dockyard acquisition.
The primary lending institutions will be responsible for 35 per cent while the interested shipper or individual will be responsible for 15 per cent. The banks will run it in such a way that it will be able to recoup this money unlike the previous exercise where beneficiaries diverted the monies to some other things outside acquisition of vessels.
Looking at the past experience of the Ship Acquisition and Ship Building Fund (SASBF) which was mismanaged by the so-called beneficiaries. Won't the same thing repeat itself in this CVF?
This time around, we will make sure we tie it with the finance institutions that have the modalities to recoup their monies from the borrowers. This I believe will take off as quickly as possible. I thought that it should have taken off by last December but some issues arose that is why they were dropped.
This project is very dear to me and it is going to improve our maritime well being, shippers' financial base, create employment for youths in the industry and above all, improve the well being of Nigerians.
Jetty development and operation
The issue of jetty has been on the drawing board for 44 years before it was handed over to us just last September 2009 by President Umaru Musa Yar'Adua.
We thank God for his blessing for having made it possible during our lifetime to actualise the dream. The economic benefit of this project are better imagined because it will help to impact economic effects in terms of riverine port development dockyards, in terms of warehouses, in terms of tank farms around these channels, and water transportation.
People will be having their vessels and their boats for movement of people. And you see medium size barges for the movement of goods and services around the channels. And I believe the effect or the totality of this is going to bring a sort of economic growth to our people. Now, the project has been on. It is our responsibility to continue to monitor it, and I want to appeal to you (the press) to join us in monitoring the contractors by giving objective criticisms, reporting and advice as the case may be.
It is important that all hands must be on deck to ensure that this people work. The Nigeria of today is not the Nigeria of yesterday where anything goes. People are happy to be receiving contracts but after the mobilisation, they disappear and abandon it to the disheartening of the people who gave them the job and the generality of Nigerians. I think we should all join hands together to monitor and ensure that these people complete the terms and timing.
The dredging of the Onitsha Port
The Onitsha Port is very disheartening as we saw in most of the ports that were commissioned in 1983 by the then President Shagari. But then it was abandoned and it deteriorated and most of the infrastructure had been bastardized. And as a result it needs a complete reconstruction. The contract had been awarded to Interbell and they have been mobilised to site. His contract duration is about nine months. I am sure before the end of the tenure of this administration, people will see that it will come into operation. Contract has been approved for the equipment and civil works.
The development of other mini ports across the nation
That of Baro is also awarded and it is ongoing. Oguta Port has been awarded and it is ongoing. The Lokoja was awarded; the contractor is an indigenous one. A full engineering and construction work and he abandoned the site and is no more there though backed up by banks and the project performance is about 13 per cent, whereas the money paid is almost eight hundred and thirty-something million. These are the problems we had with indigenous contractors.
This project was to have been awarded to ICC or Julius Berger but we under quoted them and they were given the project and therefore after they had been mobilized, they decided to divert the money to some other things. Two years when they were supposed to have completed the project, he has not, he just achieved 13 per cent. So, we have worked it out and we are in the process of re-awarding it, taking us back three years behind. It is very unfortunate; these are the characteristics of Nigerian contractors.
There have been promises by Federal Government to dredge the Calabar Port. What is its position on the project so that bigger vessels can navigate through its channels?
Let me tell you about the issue of Calabar channel, if there is anything they call the 'badest' project which I have ever seen in my life, because the project was badly conceived. It was a very big project. This was a project that its design and feasibility study and the bill of quantity was done in 2002 and the project was not awarded until 2006/7. And with the rate of the siltation of 36, 37 per cent of the Calabar channel, you could imagine that at least the volume that was usually expected would have dealt with but nobody did anything to re-assess and re-evaluate the volume of shift removed. But what I heard was that the quantities of 2002 were re-awarded in 2007.
What then will be the remedy on these contracts?
But automatically dredging is done in cubic metres for sand pullout while the contractor pulled the amount of sand and abandoned the site and yet the channels have not been dredged properly to accommodate vessels. Some portions were abandoned, about 10 kilometres or so. But it is unfortunate that we have been trying to get these contractors back to site, we have now re-awarded and I directed that the Nigerian Ports Authority (NPA) should now go back and take another consultant to make another botching survey and it will act as an addendum of aberration to the contractors who are still around and are willing to go back to site.
It is very unfortunate, the contract gulped about 24 million Euros and the contractor has to be changed. These are part of the Nigerian problems, people supposed to have done the right thing, they will not until something goes bad. We have been addressing it and we hope that with peoples' co-operation, I think I have given them time limit that the project must commence by March this year. So far, they have not come to me but I have given them a time limit that by March all the processes be done and the contractors gone back to the site by first week.
The Maritime Reporters' Association of Nigeria is proposing to honour you with an award of excellent performance, how do you feel about that?
So, I want to thank you for the proposed gathering in Ilorin, Kwara State capital for honouring me. It is a good gesture which one must appreciate and cherish so much. You hardly see journalists commending people. Journalists and labour union are the same including students union …. they never see anything good in somebody.
Maritime security
If I leave this ministry, I would want to see an improvement of maritime security. It is very disheartening when you see vessels hanging on Lagos anchorage. Over 200 vessels busy doing nothing, doing illegal bunkering, illegal transfer, all illegal sorts of businesses around there. Some of these vessels are sold and had almost been abandoned there. And if you look at the front of mariner and Apapa, you see so many vessels. They have nothing to do there. Those vessels must be cleared because not only do they constitute hazard to the maritime environment even to the whole nation.
An enemy can come there and plan bombing Nigeria from that place. And that is the economic nerve centre of our country. Mariner? Yet you allow vessels without knowing who the owners are abandoned there for years. So, let us work together with selfless efforts with NIMASA. And I have constituted a presidential committee for the removal of all those wrecks that are hanging there. The place is very dear to me. By the time I leave, all those vessels should have been cleared.
If that is the only thing I could achieve for NIMASA, removal of wrecks and improved security. To make sure that any vessel that berth at our water the record is properly known and you have the statistics, you know what it is doing in our water, how long is it going to stay there. These are what I want us to do, and all the relevant information.
How do you see the NPA of today?
On the part of NPA, one of the areas directly under me is NPA and is very paramount to me. NPA hasn't got developmental plan. And any organisation that does not have developmental plan will continue to drift and will have no measure of improvement and that is the situation and position of NPA. We are all aware that both Apapa and Tin Can ports have been choked up. Lagos has grown and they have almost circled the ports. There is no room for expansion and that is the port we know for almost 40 to 30 years.
They have grown in people and there is no corresponding growth in capacity and statistics expansion. Instead the whole ports had been closed and no place for expansion, and if there is, it has not taken place within the last 20 years. And this is one of the reasons why we have port congestion. The infrastructure had decayed, no road, no rail. The ports continue to remain the same area, no expansion. So why can't we have port congestion. That is the cause.
There is no planning for it, that is for NPA. NPA is supposed to have for Christ sake 20 years, 25 years port development plan. By 2015 it should be building a port in Lekky in Victoria Island and we should have a railway linked to it to Badagry or Takwa Bay. Or we have a port proposal may be in Degema or Abonima, Port Harcourt, Rivers State, with 16 metre drive that can lead to Port Harcourt rail and there is nothing like that. They are so unpatriotic, nothing for that, money is made and money is spent, why is it spent and no capital investment but touring, seminars and all sorts of things.
It is one of the edging areas that made me to request from the NPA Managing Director and say, 'can we work together to put NPA on the right footing. Let NPA have 20, 25 and 30 years port development plan.' There is necessity that we should be here and by 2015 we should be there. By 2018, we want to have this port. They (NPA) have the capacity, they have the resources, but if they only plan them. So I thought I could put NPA in that part of good planning and have a structured way of doing things. I pushed it to him and I have not been able to see anything. I mean, I have not been able to see any possible body language from NPA.
The first master plan, they gave the contract, they have done the due process, so I am still waiting to see the consultant that would be engaged to do the port development master plan which we are to carry to the Federal Executive Council (FEC) for approval before we ask for Public Private Partnership (PPP). People who want to come and participate in PPP to develop the ports. These are areas that are dear to me and I believe that with your cooperation and understanding, we can work concertedly together for actualising this goal.
Concessioning of the Nigerian Railways
But some people are of the view how can we rehabilitate when we intend to concession. But my answer has been on the local.. Nobody can buy fish inside water, you need to bring the fish out of the water so that people will see the size, the type, whether it is tilapia or digger fish before you buy the fish. But when you see fish move inside the water and you said can you sell that fish to me without knowing the size. That is my own approach to it. People believe in the concessioning of the railway.
You cannot sell something that is not functional. Nobody will come from Germany or Italy or Canada to come to develop your infrastructure. He intends coming here to make money. We have ports, how many will come and build their ports here before. The AP Mollers and these people they came and saw the Apapa Port and they did their feasibility studies so that they will make their money. So, they put in money to make money.
The controversy over the commercial regulator of the port industry
It is very unfortunate that the Nigerian Shippers' Council (NSC) is not doing their job. The role of the NSC is to protect the interest of the shippers and if the council is sitting there and allow the concessionaires to exploit and extort our shippers, that means it is very unfortunate, they are not doing their job. You (Press) better take them up from your own side and report them to me. That is a failure on the part of the NSC.