GLOBAL WARMING: FASHOLA TASKS LAGOSIANS ON GOOD SANITATION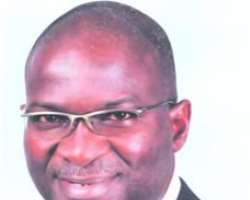 Global warming: Fashola tasks Lagosians on good sanitation
By UCHE USIM
Thursday, March 04 , 2010
Gov. Fashola
Lagos State Governor, Babatunde Fashola, has tasked Lagosians to imbibe good sanitation habits by clearing all drainage channels to insulate the city from flooding.
Speaking with aviation correspondents on arrival from Abuja yesterday, Fashola stated that Lagosians and Nigerians in general should learn from the warnings of meteorologists on the gathering of snow that will soon empty itself into the Atlantic Ocean and thus cause massive flooding, especially in coastal areas that have poor drainage system.
According to the governor, everyone remains involved in the urgent task of keeping flood from destroying lives and properties in the state, adding that government alone cannot do anything without the cooperation of the citizenry.
'The government is not an abstract entity. The government is you, the government is me; the government is all of us. Let just roll up our sleeves, clean our drainages, manage water properly and ensure the best habit.
'You have seen what is happening in France, the whole of France was flooded a few days ago. Mud slides took place in Uganda just two days ago. Earthquake in Chile, warnings of Tsunami, heavy wind. We are part of that global village. We are in a safe zone, we are in a safe area but it is not enough to ride our luck. We must stop those things that endanger us, bad management of drains, bad disposal of refuse, slitting of drainages. All those things were built with our tax money. Let's make them work for us now.
'As we are having extreme weather conditions of heat, I expect that as we have seen in Europe, snow is falling in places where it didn't fall many years ago. So we won't be insulated. One good thing, is that we have advance warning, we can prepare, we have time. There is a plan in place from the local government right down to the state level, everybody should get involved.'