African version of the popular desperate housewives will soon be filmed in nigeria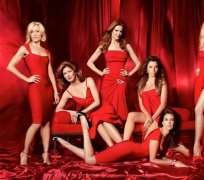 African version of the popular desperate housewives will soon be filmed in nigeria
The Disney Media Distribution EMEA has revealed plans to produce the African version of popular Disney series Desperate Housewives.
The Desperate Housewives series already have five different versions produced for EMEA and Latin American audiences, including: a Turkish version,'Umutsuz Ev Kadinlari', the Argentinean version, 'Amas de Casa Desesperadas', the Colombian/Ecuadorian version, the U.S. Hispanic version.
The movie is To be filmed in Nigeria, the series will be jointly produced by Mo' Abudu's EbonyLife TV and Disney.
general manager, Disney Media Distribution, Emerging Markets, Giovanni Mastrangelo, has noted that the purpose for bringing Desperate Housewives to Africa is 'to engage African audiences through locally relevant and entertaining storytelling.'
The cast for the Nigerian series which will be filmed on location in Lagos, will include actors from across Africa, and producers say production will follow the format and storylines of the original US version, but with a Nigerian flavour.