Kim Kardashian's Engagement Ring Auctioned For $749,000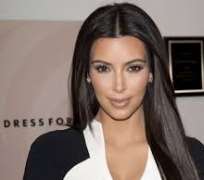 Kim Kardashian's diamond engagement ring from her ex-husband, Kris Humphries, was sold for $749,000 at an auction in the United States. The ring was included in the 'Magnificent Jewels' auction at Christie's in New York, on Tuesday.
Kris Humphries and Kim Kardashian were engaged in May 2011, and got married three months later, in a wedding that gulped about two million dollars. The couple, however, separated merely 72 days after the lavish celebration.
The ring, which is a 16.21-carat Lorraine Schwartz bauble, was initially estimated at a maximum of 500,000 dollars but was sold for much more than was expected.
A spokesperson for the auction house told journalists that 'This impressive diamond ring was sought out by two bidders in the back of the room, one online bidder, and was ultimately won by a bidder on the phone.'
The auction house also stated that a portion of the amount from the sale of the ring would be donated to charity by the purchaser.
Earlier rumours on the ring said that Kris Humphries paid two million dollars for the ring, however, results from the auctioneer's investigations show that the ring might have cost a lot less than that. A representative of Christie's, Gabriel Ford, said that their experts 'estimate on what they deem it worth at this time (of the auction).'
The divorce between the estranged couple was not final until June this year, barely two weeks before the birth of Kim's daughter, North West, for American rapper, Kanye West.
Kim and Kanye have been in a relationship since April 2012 and there are rumours that the lovebirds might get engaged soon.