Fire Razes 100 Shops In Lagos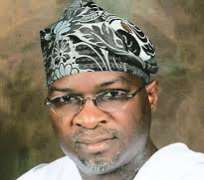 A late night fire, which started on Sunday night and smouldered until Tuesday morning, razed about 100 shops belonging to the Police Officers' Wives Association (POWA), in Ikeja, Lagos.
The incident, which came on the heels of the three fire incidents that occurred at Ajah, Apapa and Ejigbo, all in Lagos State last week, has increased the number of fire outbreaks  in the state to 10 within two weeks.
No life was lost in the latest incident, 62 of the shops which are located on Bank Anthony Way, Ikeja, were completely razed down while 38 others were said to be partially damaged.
According to an eyewitness, the fire, which had started at about 10pm, was caused by an explosion from a power generating set belonging to a restaurant located within the market.
The eyewitness said the fire was not noticed on time because of the hour it happened and because people were at home and not in their shops.
By the time a combined team of policemen and the state fire service from Alausa and Ikeja offices,  deployed in the area  got there, the fire had destroyed property worth millions of naira.
Confirming the incident, the Director, Lagos Fire Service, Mr. Razaq Fadipe, said it took the concerted efforts of firemen and others to put out the fire.
He however said only 48 shops were badly damaged while  38 were slightly affected by the fire, adding that the damage was contained because of the quick response of the emergency services.
He said: 'The incident happened in the barracks and the Alausa and Ikeja fire trucks responded promptly and saved the senior officers quarters.'
Speaking on the recent cases of fire in the state, the Public Relations Officer, South-west Zone of the National Emergency Management Agency (NEMA), Mr. Ibrahim Farinloye, said there was need for sensitisation to prevent such.
He said: 'Even though the rains still fall, we believe the residents of the state need to be sensitised to enable them prevent doing anything that will cause an outbreak of fire.
'Therefore, we appeal to authorities heading local governments and councils to enlighten the populace on avoidable fire incidents during this period.
'Community leaders should also be involved to educate particularly those living in peculiar environments, such as thatched dwellings in rural areas, to be cautious about the use of firewood or other smouldering objects and heating materials.'