ABANDONED, SOCIAL WELFARE DEPT RESCUES FIVE BABIES, RAISES ALARM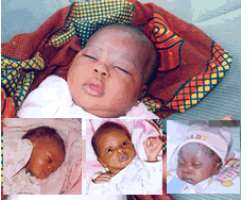 ABANDONED
Social Welfare Dept rescues five babies, raises alarm
By Ngozi Uwujare, Ibadan
Thursday, March 04, 2010
The rate at which babies are abandoned in Ibadan, Oyo State is unsettling the authorities. Instead of abandoning the innocent babies by the roadsides, at the mercy of harsh weather and ants, a Principal Social Welfare Officer, Mr. Adebayo Salawu, has advised couples who are having matrimonial problems or women with unwanted pregnancies, to contact his office for necessary assistance or advice.
He said cases of abandoned babies would reduce, if people contact Social Welfare offices for help. Among the abandoned but rescued babies was a seven-day-old baby with deformities. The baby was dumped beside Ogunpa river in Molete area of Ibadan metropolis.
According to Salawu, it was residents of the area, who saw the abandoned baby and alerted the Social Welfare Department. He disclosed that the deformed baby was taken to Adebayo Hospital, Yemetu, Ibadan, for treatment, adding that he is responding to treatment. Describing the mother as wicked, Salawu appealed to Nigerians to assist to ensure that the baby survives and lives normal life.
He also disclosed how four other abandoned babies were rescued from various locations in Ibadan. Among them was three weeks old boy, who was dumped in Agbirigide village, Moniya.
According to him, one-month-old baby girl was also abandoned beside Babanla stream, while two days old baby girl was rescued at Adebiyewu Mokola area of Ibadan.