Why Steinfeld is the hardest working 16-year-old in Hollywood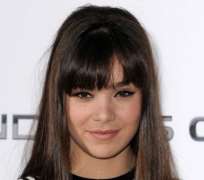 Remember that wunderkind actress who got an Oscar nomination for her very first movie role? Well, after a pretty long break, she's back … with a vengeance.
Hailee Steinfeld first wowed audiences and critics as the gutsy young gal in search of her father's killer in the Coen Brothers "True Grit." Starring Jeff Bridges, the 2010 western earned a whopping 10 Oscar nominations and got people buzzing about its ingénue actress - who was just 13 when the film was made. But she hasn't been seen on the big screen since.
"I was in no rush coming off that crazy year," Steinfeld tells Yahoo Movies about her cinematic absence. Now at the ripe old age of 16 (going on 17 in December), Steinfeld is starring in her second film as Juliet in the latest adaptation of Shakespeare's "Romeo and Juliet."
Watch Hailee Steinfeld Discuss Her Busy Career:
"I never actually intentionally took off that amount of time," says Steinfeld, explaining she was waiting for the right project to come along.
Make that projects: "I've shot seven [films] since 'True Grit,'" she tallies, with a sparkle in her eye.
Indeed, from now until next year, Steinfeld is scheduled to appear in 10 films. That's a whole lot - even for actors who are in the highest demand. (By comparison, the ever-so-busy Benedict Cumberbatch will be in seven films, plus his "Sherlock" TV series, in that same time span.)
] Yeah, Steinfeld is back in the game in a major way, also appearing in the young-adult big-screen book adaptation "Ender's Game" with Harrison Ford, in theaters in just a few weeks.
"I'm so excited for people to finally see what I've been working on," the young performer tells Yahoo.
And she's been soaking up all she can from the seasoned players she's been working with, including Bridges, Ford, and Paul Giamatti. Steinfeld says she learns the most by watching them in action. "They've all told me to just have a good time and take my time and enjoy what I'm doing. I live by that. I love that advice."
"Romeo and Juliet" is in theaters now; "Ender's Game" opens on November 1.
MOVIE TALK