OKORIE TO GOV OBI: I WILL NEVER SURRENDER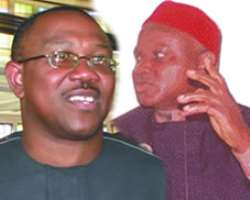 Okorie to Gov Obi: I'll never surrender
From CHIDI NNADI, Enugu
Thursday, March 04, 2010
Gov. Obi and Okorie
Founder and factional Chairman of All Progressives Grand Alliance (APGA), Chief Chekwas Okorie, has broken his silence over the Anambra governorship election won by his party through Governor Peter Obi, saying that Obi may finally fritter away the APGA victory.
Okorie in an exclusive interview with Daily Sun said that he knew that APGA would win in that election and even in subsequent elections in the region, noting that he had warned Governor Obi to consolidate his membership in APGA after the presidency brokered a truce which made it possible for him to obtain the party's nomination, but after which Obi called their bluff again.
He pointed out that Obi's refusal to regularise his membership has endangered his position in the post-Anambra February 6 election, claiming that the governor has three fronts to battle with.
Okorie also maintained that he is still the authentic chairman of APGA despite the Appeal Court's upholding his earlier expulsion from the party, and that he is hopeful to get justice at the apex court where the matter is now.
Besides, he said that the fact the convention of APGA had re-admitted him to the party means that he would have to be expelled the second time before he ceases to be APGA chairman.
He also looked at the APGA crisis, the just-concluded Anambra election won by APGA and the dangers ahead.
Excerpts:
One should have thought that you would have been happy that your party APGA won the Anambra election, but it appears the contrary is the case. No, I am happy, I'm very, happy that the party retained the confidence of the people of Anambra State. I said it before the election that APGA will win in a free and fair election anywhere in Igboland, including Anambra irrespective of the crisis because the ordinary people believe that APGA is their own, they don't even know about who is chairman at Abuja.
If you ask the ordinary Igbo man to go and cast his vote, he does not mind whether he is PDP or not, he will walk to where there is the APGA logo and vote there because his conscience tells him that this one is his own. And that is the way we have always wanted it to be, rather than these people who now want to appropriate it to themselves. Now, I want us to understand what is at stake here and that is what I have been afraid of; that the mandate given to APGA by the people of Anambra State is going to be frittered away by Obi, let nobody make mistakes about it, if we lose that mandate, Obi should be held completely responsible.
The reason is that he saw all the pictures, the loopholes and we extended our hands of fellowship to regularise all of these, so that his victory can be consolidated; now he has left the party, and he has ruined himself. The danger is there, you can't wish it away; these are fatal errors. He is going to deny the party enjoying that victory and at the same time he is destroying the goose that laid the golden egg.
Are you sure of what you are saying?
There is no amount of bribe that will change the fact that he went into the election not a valid member of APGA. The membership card issue is not a question of propaganda.
Is this issue being contested now?
Of course, we are already contesting it in the court in the substitution case, that is the case of mandamus, it's all part of what we have submitted and I am aware that his opponents who are going to the tribunal already have those documents because they have gone to the courts to obtain certified true copies of those documents as public documents that they are to support their argument that the person they contested election with was not a valid candidate.
So, the votes which the people cast are likely to be wasted because of the inordinate ambition of one man who wanted to fight and appropriate the chairmanship of the party for his cousin and the governorship of Anambra all at the same time. People are not seeing the greed in it, people are not seeing the unscrupulous attitude, people are not seeing the tendency to be rebellious, so all of these things have become a major problem for Obi and if anybody says I didn't warn and did not take steps to have Obi go for election so that the party can be peaceful, they will only be mischievous and the person will be only calling me names for nothing because I took steps for Obi to go for governor. I am from Abia State, I have no territorial interest in Anambra State, but the soul of APGA which I founded will never be surrendered to brigands. Never, not in my life.
What about if they succeed in pushing you out?
They can never succeed, never, except if God has changed colour to become God that supports evil, they will never succeed, even if I drop dead today.They have tried all of those things, and those who are following me cannot allow them to take over because if you look at the issue, Umeh has never requested any court to declare him chairman. So, how will they push me out, how will they take over? It's only when they procure this type of judgment. What is published in the paper is totally different from what the court said; there is no application existing in any court where Umeh's prayer is to be called chairman.
What if the Supreme Court upholds your expulsion?
I will fall back on the convention decision which is the highest authority of the party and has nothing to do with this issue. Don't forget that what is in the Supreme Court is a decision taken by a lower court in 2008 and in 2009, APGA had a convention in which by implication the expulsion was recognised, and I was readmitted.
But that convention was said not to have been properly convened…
It is not being challenged, what is being challenged was Chekwas Okorie convening it and Chekwas Okorie did not convene it. Don't forget that there was an experte order to stop the convention and the convention took place. And when they went to the court of Justice Kolawole of the Federal High Court, he saw that I was not the one who convened the convention and instead of nullifying the convention he only asked INEC by an order of court not to use the outcome of the convention until the substantive matter is finished.
And the substantive matter, was that I should not convene convention and the party was asked to keep the resolution of the convention in its domestic domain until the substantive matter is resolved, that substantive matter came up last week at the Federal High Court and the date, 24th of March has been slated for hearing. So, the onus is on them to prove that I convened that convention, the documents to INEC are there, and if they decide not to continue with the case then, of course, the little encumbrance of the convention has been removed, if they continue with the case, I see the possibility of their case not seeing the light of the day; the reason is that they sued the wrong man.
Chief, when will this APGA crisis end?
It has almost ended, I knew it will end with the Anambra election; it is the fallout of that crisis that Obi is battling with. Obi has three fronts he has opened for himself; he has more crises on his hand than the APGA crisis and he opened all the fronts. We are now talking about how to rebuild our party, we will soon call up a major stakeholders' meeting that will involve giving people who are not members of APGA, who come from the other geographical areas that feel almost rudderless and have no leader for now; there has been pressure on me even as I travelled abroad from which I came back last week, the pressure is from Igbo people in diaspora and here at home, everybody is looking up to me to convene a meeting.
What are these three fronts you said Governor Obi has opened?
The APGA leadership front that is now querying the authenticity of his nomination, that is, the membership of the party; the Ngige front that is challenging the election; the Soludo front is also challenging the election, these are three major fronts and you know now that he wants to conduct local government election, that election will not hold for the simple reason that the same issue of membership card will arise again, you cannot go to election with a fake membership card of a party.
The courts will be there, there are three issues involved, and that means any case we win in court everything will collapse, any one case we win even if he likes let him transfer the state treasury to the Supreme Court, he was not the richest man in 2003 when he won his case; those who were fighting him were known to be richer than him, but the Supreme Court stood on the path of justice, so, why will anybody think my own will be different? This Supreme Court, can't you imagine that all political cases that have left the Court of Appeal have been upturned by the Supreme Court. So, if we win our case everything collapses like a pack of cards.
Yet he could have resolved all of these before that time, but now it's almost late because you cannot reverse the time table, if he goes now to change his membership card in INEC or change the nomination form in INEC, it will amount to forgery. So, it's too late; that's why I said his mistakes are fatal.