Berger Paints recovering after two years of falling profit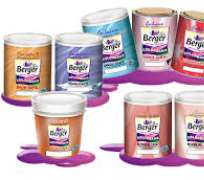 Berger Paints is on the recovery path this year after two years of declining revenue and profit. Turnover came to the lowest figure in three years at the end of 2012 and profit closed lower than any time in the last five years. The second quarter performance of the company at the end of June however shows that both revenue and profit outlook is promising for the current year.
The company reported an after tax profit of N101 million in the second quarter, which is a 6.0% improvement over the corresponding net profit figure of N95 million in 2012. Based on the current growth rate, the full year after tax profit figure is forecast at N230 million for Berger Paints in 2013. That will take net profit to about the 2011 level and represent an increase of 27.8% over the preceding year's profit figure of about N180 million.
The improved profit outlook for this year reflects an improvement in profit margin from 7.2% in the 2012 full year to 8.3% at the end of the second quarter. The company's profit peak was attained in 2010 when it posted a net profit of N442 million from a peak sales revenue of N276 million.
Since then Berger Paints has not been able to grow sales revenue, as competition continues to intensify in the paints market and product demand capacity remains constrained due to a general economic slow down. But this year is promising on revenue growth so far.
At the end of the second quarter, the company generated a turnover of N1.21 billion, which is a marginal improvement of 3.0% over the corresponding figure last year. Full year projection indicates sales revenue in the region of N2.7 billion for Berger Paints in 2013. This will take turnover to about the peak figure attained in 2010 and will amount to an increase of 7.6% over the revenue figure in 2012. Sales revenue had declined by 2.3% in 2012.
Cost management appears effective with cost of sales unchanged as a proportion of revenue at 61.3% in the second quarter. With that, the company effectively defended gross profit margin during the period. This was reinforced by a 25% drop in selling and distribution expenses and a slight decrease in interest expenses. An increase of 35% in investment income further boosted the bottom line, letting profit to grow ahead of turnover.
At N3.4 million, interest cost is insignificant on the company's income statement, which reflects a virtual absence of balance sheet debts. Save for a short-term loan of under N7.0 million, the company's balance sheet is free of interest bearing debts.
The company is again not planning for an increased borrowing but has embarked upon a rights issue of 1 for 3 to raise the new money it needs to improve operating capacity. It is expecting net proceeds of N522 million from the rights issue, which is now in process.
The funds are to be applied for purchase of new equipment needed for modernization of factory operations. The company's management said its manufacturing infrastructure has aged to the level of significant inefficiency. It expects that the infrastructure improvement will secure efficiency gain that will impact positively on turnover and profit performances.
A substantial improvement of the company's distribution channels is also a part of the capacity enhancement project. The company has opened a building materials and related products shopping complex in Abuja in pursuit of its revenue base diversification strategy.
The company earned 46 kobo per share in the second quarter, improving from 40 kobo in the corresponding period last year. Post offer earnings per share will however be lower than currently shown. Its post offer volume of shares is expected to come to 290 million, assuming full subscription to the rights issue. That will bring earnings per share to 79 kobo at full year, which will be a slight decline from the earnings per share of 83 kobo recorded in 2012.
The company's earnings per share records show a continuing decline from a peak of N2.03 in 2010 to N1.05 in 2011 and further to 83 kobo in 2012 - the lowest in five years. Berger Paints paid a dividend of 70 kobo per share for its 2012 operations. From the earnings per share outlook for the current year, a lower dividend may be expected at the end of this year.
Major developments in the balance sheet of the company during the second quarter include a 12% increase in inventories, an increase of 9.0% in trade and other receivables and a drop of 32% in cash and bank balances. There was also an increase of 24% in trade and other payables, a decline of 8.0% in current assets and an increase of 11% in current liabilities.
The effect of these changes showed by way of adverse pressure on the cash flow during the review period. Net cash flow from operating activities fell by 96% to N10 million in the second quarter against the considerably higher cash requirements for investing and financing activities.
Developments to watch out for on the company in the second half of the year are whether there would be an accelerated growth in sales revenue and whether profit growth would step up. As per the company's promise, an improvement in factory efficiency expected with the planned factory modernization will save cost and stretch out profit margin.
Net profit margin remains well below the 2010 high of 15.9% and whether the company will live up to its promise of improving profit margin will be tested this year and in the coming years. A further gain in net profit margin in the second half of the year will step up profit performance; improve the earnings per share outlook as well as dividend expectation.