Call For Entries: 8th Wole Soyinka Award For Investigative Reporting Opens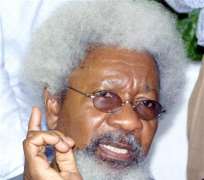 Journalists can now submit entries for the 2013 Wole Soyinka Award for Investigative Reporting. The Award is open to professional Nigerian journalist or team of journalists, whether full-time or freelancing, who have produced a news story published between 4 October 2012 and 3 October 2013 primarily targeted at and received by a Nigerian audience.
Hosts of the award programme, the Wole Soyinka Centre for Investigative Journalism had in 2012 introduced an entry coding system that makes the details of media house and by-line of entrants anonymous to judges in a bid to further strengthen the judging process and increase the credibility of the award programme.
Winners of the 2012 award: Idris Akinbajo of Premium Times; Olatunji Obasa of The Punch; Seun Akioye formerly with The Compass and now with The Nation; Bassey Asukwo of Bussiness Day; Lucas Olumuyiwa of Tell Magazine; and Tobore Ovuorie formally of National Mirror and now with Premium Times, will attend the Power Conference – an international gathering of investigative journalists, holding at the University of Witwatersrand in Johannesburg, South Africa between October 28 and 30 2013 as part of their award prize.
This edition, the award will reward and honour the works of outstanding Nigerian journalists whose news stories expose corruption, regulatory failures and human rights abuses in public and private spheres of the country in the print, radio, television, photo, online, climate change, local government, sports, health and editorial cartoon categories.
The entries will be scored by a judges' board comprising persons of integrity who are in the media and related professions.
The deadline for submission of entries is Friday 25 October 2013.
Click here: Criteria for eligibility
ABOUT THE AWARD
The Wole Soyinka Award for Investigative Reporting was first held in October, 2005 to encourage the development of an investigative tradition in the Nigerian media through rigorous scrutiny of human rights violations, regulatory failures and corruption in the public and corporate departments of the nation's life. The programme has been successfully run for eight years and has produced 52 merit finalists and 10 honorary awardees. The winners are called 'Soyinka Laureates'.
ABOUT WSCIJ
The WOLE SOYINKA CENTRE FOR INVESTIGATIVE JOURNALISM (WSCIJ) is a not-for-profit, non-governmental organisation with social justice programmes aimed at exposing corruption, regulatory failures and human rights abuses with the tool of investigative journalism. Initially known as the Wole Soyinka Investigative Reporting Award (WSIRA), the change in name became necessary in 2008 to reflect the intentions of the coordinators to embrace a more robust line of activities that have greater capacity for engendering the right values of investigative journalism in the Nigerian media.
The Centre is named after Professor Wole Soyinka in recognition of his life-long work in support of the freedom of expression, freedom to hold opinion, and freedom to impart them without fear or favour and without hindrance or interference.
Signed:
Motunrayo Alaka
Centre Coordinator
Contact Details:
[email protected], [email protected]
08028302436
@WSoyinkaCentre
www.wscij.org