Anambra And The Continuity Project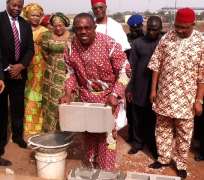 It is fast becoming a trend in Nigeria for incumbent governors to transit power to someone they can trust. It does not matter that a good number of them fail to reciprocate the trust. Those engaged in this see it as a panacea against abandoning projects. It is said to also minimize waste. But there are others who think differently, arguing that an end to abandoned project issue goes beyond self-substitution.
A substituted governor merely stands in the gap for his benefactor they argue. As plausible as the stand-in-the gap-argument, it is untenable in the light of increasing cases of open disagreement between governors and their replacements.
Since the emergence of William Obiano as the candidate of the ruling party in the state, tongues have continued to wag. A technocrat with years of outstanding performance in the banks he is viewed in some quarters as coming in to protect the governor's interest. This line of thinking is buoyed by his retiring from Fidelity bank where Governor Obi once held sway as chairman.
His non-involvement in politics even if it was a cameo appearance in its stage further intones this refrain. But this is as far as the argument against his candidature goes. In a dispassionate court of public opinion this non-involvement should exonerate him of the charge of a major-domo. Such charge of protection can only be tenable if Obiano were a regular in the Peter Obi's government. That way, it is expected, he would have been groomed enough to understand the nuances of protecting whatever interest.
But as it stands his newness in the art of governance defies this logic. All known cases of such transition of power from Delta to Kwara, Lagos to Abia the beneficiaries were never "strangers". They were part of the government they inherited and were groomed accordingly for the alleged business of protection. A total "stranger" like Obiano certainly does not fit the bill of an executor of the kind the hatchet job entails.
What then influenced the choice of Obiano for the continuity project? What special skill is he bringing into government that others do not have? What made his choice more attractive to APGA party stalwarts and Governor Obi? What part of Obiano's personality warms up to Obi? Is he as fastidious about work and delivery as the man he is taking over from? We may never get to know everything except that Mr. Obiano is immensely qualified and will bring panache to governance.
He is a hard worker and a welfarist. From the testimonies of those who had shared some affinity whether a working relationship or at personal level, the testimonies do not vary significantly. He is said to be thoughtful, a motivator of men, a team player and someone who does not forget a favour. He is also without baggage and certainly not a handful.
To therefore dismiss his choice as serving personal interest rather than public good is part of the lazy political habits of a people grown to indiscriminate criticism. Why will Obi bring somebody in his stead? Who brought him (Obi)? However uninformed he may be about the politics of the state Obi sure knows that that kind of arrangement may work everywhere but the southeast. He is better able to appreciate that apart from one or two governors in the west and mid-west every other beneficiary of the arrangement betrayed the trust. Wait a minute! What about the often denied but eternal truth by Machiavelli? "Whoever is responsible for another becoming powerful ruins himself because this power is brought into being either by ingenuity or by force, and both of these are suspect to the one who has become powerful" Until this saying is given contrary interpretation, especially in the southeast where no governor has worked well with a benefactor the motive for Obiano's emergence remains for continuity of the ANIDS projects. Already, Obiano has expressed his willingness to continue with the existing program in what he termed as the three Cs. That is Continue, Complete and Commission.
The choice of Obiano was made possible by two reasons.
One is his work ethics which saw him move through the banks and the oil industry. He retired from the former after 23 years of meritorious service at the rank of an executive director. As stated above, in all his career trajectories he was faithful and without blemish. This may have furthered his choice as the one who will carry through the existing work on ground.
Two Obiano satisfies the yearning for the balance of power equation in the state. He hails from Aguleri, a rustic town in the Omambala division of the Anambra North senatorial district. Since 22 years of the creation of Anambra the senatorial zone is yet to produce a governor of the state. It is instructive to note that Governor Obi has been in the forefront of those calling for concession of power to that area, insisting that it is morally right to do so.
It is therefore natural that his successor will come from the area. The volume of work that needed completion in few years demands that somebody with similar vision takes over in March 17, 2014. It is to be understood that simultaneous development of all sectors of the economy, as undertaken by the Obi government in the state, is too much of a meat to be chewed in a fell swoop. Its abandonment, or any part thereof, will occasion a great dysfunction in the system. Understandably, the architects of the Anambra Integrated Development Strategy, (ANIDS) whose effort has seen great transformation in the state are very particular about succession.
Though succession to almost all political offices in Nigeria today is hardly ever cast in the lap of the gods and viewed from the prism of selfishness, the Anambra experience promises to be different. What the state stands to lose should an aspect of the ongoing transformation be stymied will be too great to contemplate. It is for this reason that Obiano a team player was brought in as a possible successor to Obi to continue with the multi-sector development.
Disclaimer:

"The views/contents expressed in this article are the sole responsibility of

Ejike Anyaduba Abatete

and do not necessarily reflect those of The Nigerian Voice. The Nigerian Voice will not be responsible or liable for any inaccurate or incorrect statements contained in this article."