Historic News From Abia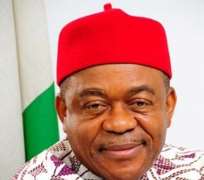 The chief press secretary to the governor, Ugochukwu Emezue has described the relocation of Umuahia main market to its permanent site at Ubani which started today 30th sept. as not only historical but a landmark achievement of chief TA Orji's administration.
Mr. Emezue in a statement maintained that what past administrations failed to realize has become a reality due to the governor's political will, determination, sincerity and desire to develop the state in all sectors.
The chief press secretary said that this relocation coming at a time Nigeria is marking its independence is highly significant.
Mr. Emezue recalled that during his electioneering campaigns the governor promised to move the market and today it is promised fulfilled.
He said that the movement of the market apart from giving the capital a new face will go a long way in restoring the masterplan of the city.
Mr. Emezue who lauded the governor's foresight in relocating the timber and spare parts markets early this yearto their new sites assured that the legacy projects of this government will be completed on record time.
Mr.Emezue while declaring governor Orji's unwaivering commitment towards transforming the state urged Abians to sustain their support for him at all times.