Rivers Musicians Unite Against Factional PMAN President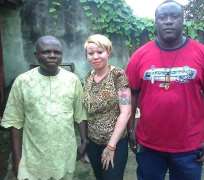 Members of the Performing Musicians Employers Association of Nigeria, PMAN Rivers state chapter has jointly issued a statement that the October 7th date for elections into executive of the association still remains unchanged, they have also urged the public to disregard any radio announcement concerning imposition of a purported sole administrator by anyone to destabilize the association.
This statement according to feelers became necessary following a recent radio announcement by an acclaimed factional national president of the PMAN national, Hajiya Oluremi Dangaji who is said to have gone on air to announce the appointment of one Tonye Jumbo as sole Administrator of the state chapter without proper consultation with congress or warranting processes.
Consequently the concerned and resolute musicians have told her to bring to an end her attempt to plant seeds of discord, create disharmony and polarity among Rivers musicians in the state or risk the wrath of the law.
Lexy M , one time chairman of the association in the state, Lady IB and Mozy B seeking for election as chairman and first vice chairman of the association from the transformation team, including Sample Siereh and Jah Best seeking election as Chairman and secretary respectively from the restoration team among other artist has voiced heir angst against what they termed attempt to truncate the peace and unity in the state.
During a parley with newsmen in Port Harcourt, Lexy M said 'we are aware that some persons have left the crisis in Lagos to Rivers state to impose some miscreants as sole Administrator of our state association; funny enough they are doing that through a radio announcement, without recourse to consulting the general congress who ordinarily should have asked for such action before it can be carried out by anyone from the national'. He urge the public to disregard such announcement, saying it was done with the motive of deceiving the unsuspecting public. According to him, the only body authorized to appoint a sole administrator the National executive committee, NEC, albeit NEC can do that if the state chapter had lodged a complain to them complaining about the ills of a chairman in the state. Hear him: 'there is no crisis in Rivers PMAN that either warrants the appointment of an administrator or is their presently a NEC at the national level to carry out that function because presently we have four factions and a peace committee due to the never ending crisis that has continually rocked the house, so who are we to listen to. They should go and put their house in order before coming to meet us'. 'We have unanimously agreed to go to the polls come October 7th 2013 to elect a new leadership that will take over from Arthur Pepple Jnr. We don't want anyone to come and change our mindset, nor would we condone external bodies making desperate attempts to truncate the peace we all now enjoy' he said. Lexy urged the national PMAN to make effort to put their house in order so as to produce a united house, saying it is only then shall Rivers PMAN musicians support and identify with them.
Similarly Mozy B who is aspiring for the 1st vice chairman in the upcoming October 7th election said he has always chosen to be on the sidelines when it comes to PMAN affairs, but stressed that he was compelled to come out and aspire for a position as a last gap effort to help correct the anomalies in the association. According to him the transformation team has visited a lot of past chairmen, stakeholders to bring them together, enthrone peace and speak with one voice, He lamented that some persons are taking advantage of the misfortunes in the union to cause problems, pointing out that the face of PMAN has been rubbished and relegated. This he said premised the conscious effort by him and others to change that and bring back the good old days.
Hajiya and Tonye Jumbo's actions are not constitutional, they should come and tell us where it is written in the constitution that one man can go to Lagos and lobby to have himself appointed as a sole administrator. Hajiya's action is irresponsible and she must stand down and let us continue in the peace we have achieved' he said adding that she cannot just come to Rivers state and without consulting with the house go on air to impose somebody on us, we will resist her and her cohorts to the letter' he said.
Lady IB who is aspiring for the chairmanship of the association come October 7th described herself as the mother of the house, she said 'I supports no evil especially in the form of imposition as demonstrated by Hajiya Oluremi Dangaji. She is my friend but I must condemn her recent attempt to impose a candidate on us'. She declared that Hajiya must go to Lagos and help set her house in order as a mother who understand the word peace and not pieces, instead of going about the state chapters to cause confusion..
Daddy Q in his remark said the purportedly appointed sole administrator; Tonye Jumbo is not even a card carrying member of PMAN River State chapter hence, should be disregarded as a man that has no business with the association.
Jah Best a former Secretary of the union, said the actions of Hajiya and Tonye Jumbo are unconstitutional and a breach of peace in the state. He said the legal process was not followed which obviously makes the whole melodrama funny, null and void. Jah Best advised Tonye Jumbo to come and register properly with the union before attempting to impose himself on the people. For the national he advised the various factions to put their house in order and come out with one executive so that state chapters that have decided to move forward can work with the national and not for a purported factional president to extend the national problems to the state. 'However, for us in the state we will continue to be one united family' he said.
Sample Siereh an aspiring president under the restoration team said this is not the first time such attempt is made to impose a candidate on PMAN members in the association, according to him, Barr Kelvin is the authentic President in the national and Hajiya Oluremi Dangaji has no locus standi to parade herself as President, and to think that she came to the state to impose a candidate, is a further blunder on her part..
He said Tonye Jumbo is a dreamer and that won't succeed in his plan, adding that the elections have been fixed for October 7th and that date is looked upon positively by all Rivers musicians irrespective of the team you find yourself. 'Hajiya should go and tinker on how to enthrone peace in the national because Rivers PMAN is united' he said.
Meanwhile Hajiya is said to be making conflictory statements over radio, we gathered that this moment she will announce Tonye Jumbo as sole administrator, the next moment she is confused and denying the appointment; a clear indication that she is either playing a script or attempting to extend the national crisis to Rivers state.
However, Rivers musicians have stated categorically clear that they are adamant with the illegal activities of Hajiya and her cohorts and would go ahead with the October 7th election.